Capt. Tim Dean is bank on the reef and spending a week on his boat Calypso with Capt. Darren "Biggles" Haydon.  It's always good to have the big man back and he kept all entertained with some radio 'banter' yesterday and caught a marlin to boot!  I hear though there are some very sore heads this morning and so getting some report sense may prove to be difficult. Capt. Haydon Bell on Release caught a mid-ranger which followed up from a fish that he put at 950lbs the day before (Saturday). And I also heard that Capt. Ross Finalyson on Top Shot reported his second big fish in two days yesterday fishing on Linden Bank.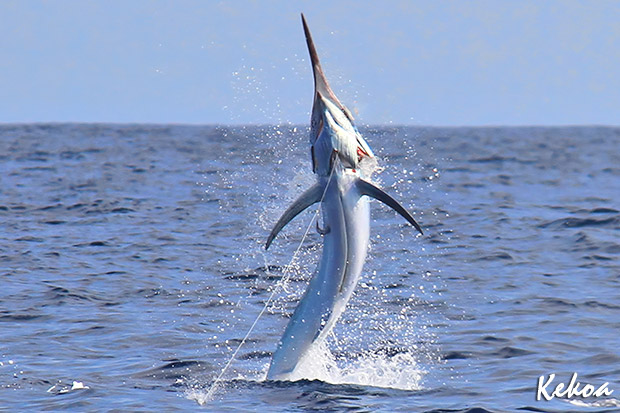 On Capt. Luke Fallon's KEKOA we got this one for Jimmy just after lunch and jumped off a second later in the afternoon. To top it off, on the way into the anchorage we also spooked a 400lb fish free-feeding on the surface!
And I also heard from Capt. Steve Ahlers on Hellraiser who tells me they seem to have solved their engine woes that were keeping the fish away.  In the past three days they've raised one on day 1, had a bite out of a small one on day 2 and had three bites yesterday. Now they just need to address the rubber hooks issue ;-)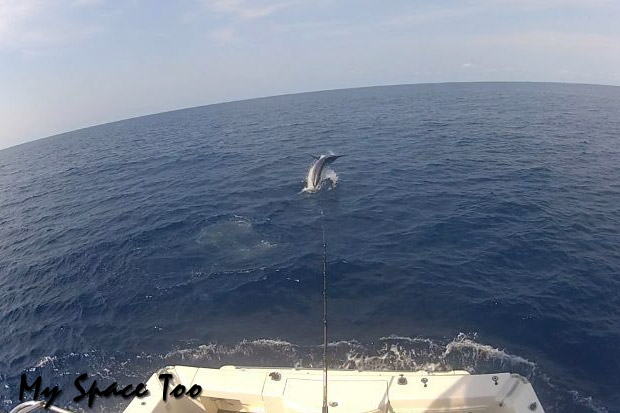 The good weather has also seen plenty of the private boat fleet on the water as well.  Reg Moore tells me that My Space Too is spending three days out fishing mainly Opal Ridge. On Saturday afternoon the 5 o'clock bite produced a big girl that Reg says was right up there.  They backed up again with a 500lb fish yesterday (pic above), both for angler Heath (Cyclops) Markham. Another private boat, Paul Poulter's Think Big, fought a big girl for Sharon yesterday before unfortunately pulling the hooks as well.
Up the top, the Lizard Island Resort staff have also been taking advantage of the good weather taking their private boats out to the reef. Watersport's Ross and partner Jennifer went out to Hicks Reef and caught a nice sailfish – the first billlfish they have landed on their little boat. Jennifer also tells me that last week the island boat Fascination caught one off Number 10 Ribbon that Billy Fairburn put at 900lbs!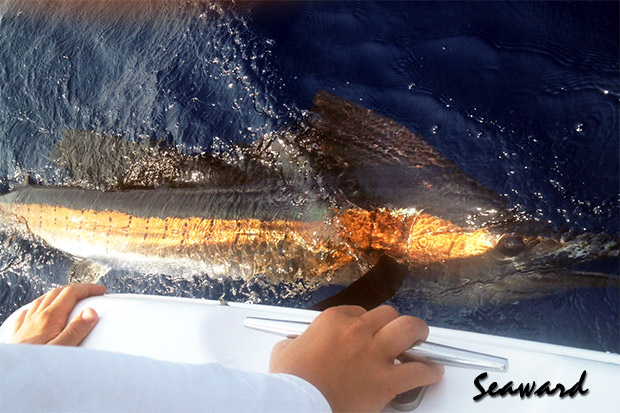 Another sailfish, this one off Linden Bank for trailer boat Seaward. Charlie tells me that young Jardine Ward caught it, his first sailfish and on his 12th birthday! Congratulations Jardine~!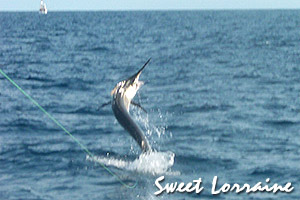 And another first for a youngster, Simone Murphy reports a first black marlin for 15 year old son Ryan Murphy on Saturday on Sweet Lorraine.
Simone says the fish put on a great show and hopefully has him keen to come with out with them again. I'm sure he's hooked now!
Townsville
Mick Dystra's Reel Crazy ventured out to Myrmidon Reef and put young Renee McKenzie onto her first heavy tackle black marlin that they put at 800lbs and followed up with a 300lb-er after.
Gold Coast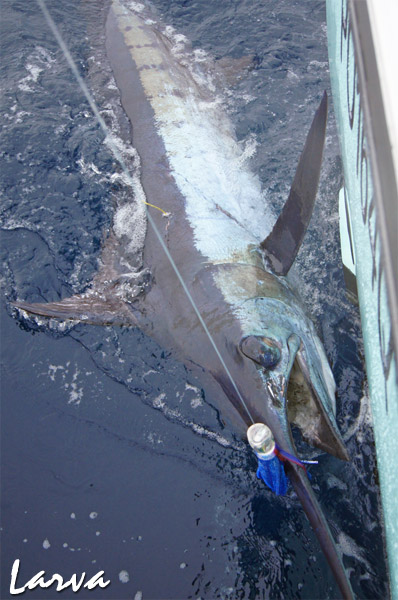 Larva Lures' Daniel Burke tells me fished heavy tackle off the Gold Coast Saturday for the first time since August with success. They caught a nice mako and blue marlin, the mako for Daniel and the blue was caught for his brother Justin who had never been gamefishing before. Congrats Justin!
I heard the little blacks have been a little further between but SPGFC's Andrew Dunbar son Riley was another lucky young angler notching up his first marlin yesterday with a little black.