Another big day on the water for some. Capt. Ian "Wobbles" Ford on Hot Shot notching his second double big fish day of the season. With a fish early that was a bit shy of the mark, he followed up later with a double header of one that he put over the mark and a second at 500lbs.
Also on another great two fish day, Capt. Tim Richardson on Tradition with a 850lb+ fish for Ric and then a smaller one late in the day. Tim sent me a couple of great shots and it would be a shame not to share as they are great!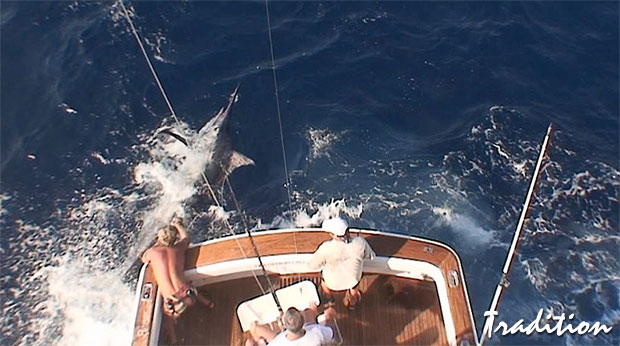 And Capt. Brett Thomas on Gorilla tells me they got a nice one for Toby Denneen that he put at 850lbs wide of Escape.
Capt. Craig "Sparra" Denham on Bounty Hunter was last seen trolling over the horizon on his way to the Sea Mount. We heard he'd released one black marlin and caught a bunch of wahoo before going out of range, so we'll be looking forward to hearing more when he gets back.
I also heard a couple of the trailer boats got in on the action while Mark on Spread 'Em went 1 from 2 on a fish about 250lbs.