Another great weekend of fishing is over and reports have filtered in along the east coast (what's happening in WA?)
South East Queensland
The Sunshine Coast has been very consistent this season for the little black marlin and it continued over the past weekend as well.  Lachlan sent me some photos of the Jensen's boat Monster in action on Friday on 18 mile off Mooloolaba.
Also nearby Lachlan snapped shots of 6 year old Mitchell Behrens with his 1st ever marlin on board Reel Hunter who (2 from 2 from for the day).  Unfortunately the young blokes fish got tail wrapped and died, but is now a pending Aussie record for small fry!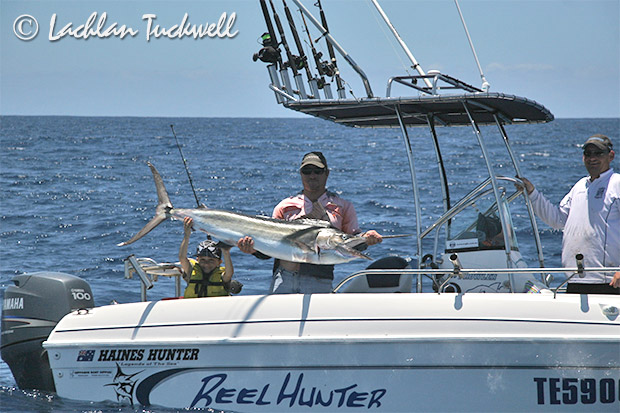 And Kellie also turned the tables on Lachlan who was fishing on Cat-a-palt with 1 from 1 for the day with this shot.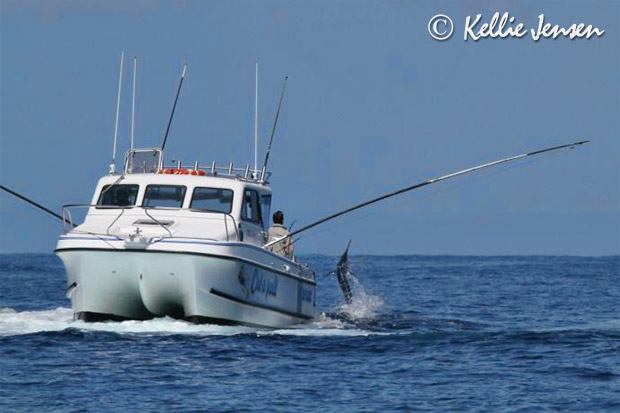 Also fishing off the Sunny, Reel Capture had three blacks and two wahoo on Saturday. While I hear SCGFC Captain Rob Smith (Smithy's Fishing Charters) has been releasing a few on his recent trips including a trip of 9-7-6 made up of 4 blacks and 2 wahoo.
Meanwhile, there are also still blue marlin out wide (and they should be showing up in better numbers from here on in).  Capt. Ken Brown's Megumi caught a nice one about 450lb on Friday and followed it up with a 1 from 3 yesterday (Monday). Yesterday's fish was another good one about 400lbs for angler Craig Gillies, his first billfish.  Brownie said that all the fish yesterday were good solid fish including one that was a good 500lb.  The two we missed were soft bites and not the usual blue marlin lure thugging!
Likewise off the Gold Coast, the Larva Lure boys on Larva 2-2-1 on Sunday as well tagging a striped marlin and dropping a small blue.
NSW Coast
George Trinkler's on his way back to Fiji (hunting the blues on Opulence) but got in some black marlin action at Port Stephens before he left. They had a great day on Saturday with 3 black marlin on board Born Free.  Sounds like the water has been pretty warm with some considering that the bulk of the fish must be still up around Seal Rocks? Striped marlin have also been harder to find. Scotty Thorington on board the new Freedom has kicked off his season on the Central Coast with their first marlin of the year. They went 2 from 5 inshore on Sunday.
With the water a bit cooler there, they are having more luck on the stripes off Kiama. Matt Xiberras reports that Jake 2 ended up with a 5-3-2 on striped marlin. The two successful fish came from a double hook up which was a great effort with only the two on board.