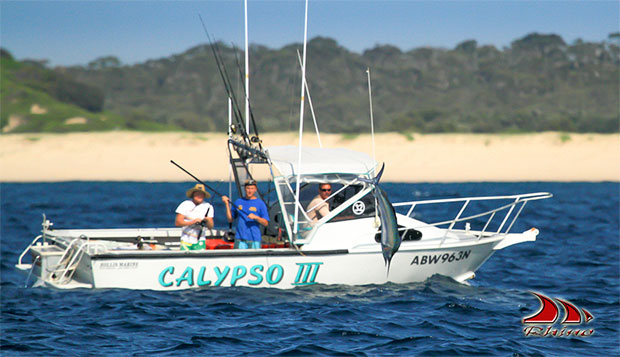 The Port Macquarie GFC Champion Boat Tag & Release, Calypso 3 with skipper Dave Wells, Damian Rafter and Sam Young.  Photo from Rhino on board Iona 2 fishing nearby.
The 29th annual Blue Water Legal / Carlton Mid Golden Lure Tournament in Port Macquarie wound up on Saturday with the presentation of prizes. In all, 32 boats, 134 anglers competed tagging 100 fish (65 marlin) and bringing 9 captures into the weigh-station.
The comp was fished in ideal conditions (except for a 25-30 knot north east chasing anglers in on the final afternoon). And it was another exciting comp with the lead changing hands at least 6 times in the four days!
In the Champion Angler stakes, Dave Wilson Jr (That's Gold) set the pace early on Day 1 with Damien Rafter (Calypso 3), although in hot pursuit, not being able to over take until late in the 2nd day. Sue Ahlers (Iona 2) was likewise not giving in to the boys! Only 3 fish separate 1st to 3rd on the start of fishing on Day 4.
In the end Damien Rafter held out to take the prize while the capture side came down to picking the right fish to take the prize, with Darren Lewis doing just that with a 107kg blue marlin on 15kg from a 21ft trailerboat (Purple Haze). Another noted capture was for Casey Saddler of a yellowfin tuna that weighed 73.60kg on 24kg (Awatea) .
10 juniors and 4 small fry anglers fished the regular comp of 4 days which was a fantastic effect considering that for some this was their fist tournament.
On the boat side – Tag & Release:  1st place was Calypso 3, skipper David Wells (23ft); 2nd That's Gold, skipper Skipper Rikki Baird (18 C/Console);  3rd Iona 2, skipper Adam Jordon .
Capture: 1st place was Purple Haze, skipper Glen Johnson (21ft), 2nd Renegade 2, skipper Paul Hyde (21ft) – the trailer boats sure showed that you can win comps in little boats!
Port Macquarie President Charlie Fancett and Tourament Co-ordinator Greg Relf did a fantastic job to make this tournament so good again this year as well as with the help of all the volunteers this tournament would not be possible so a big thank you to all of them. The 30th anniversary Golden Lure is scheduled for 10 January, 2014.
Thank you to Steve Bedwell for the detailed report! A great photo from tournament photographer Mike Kane below!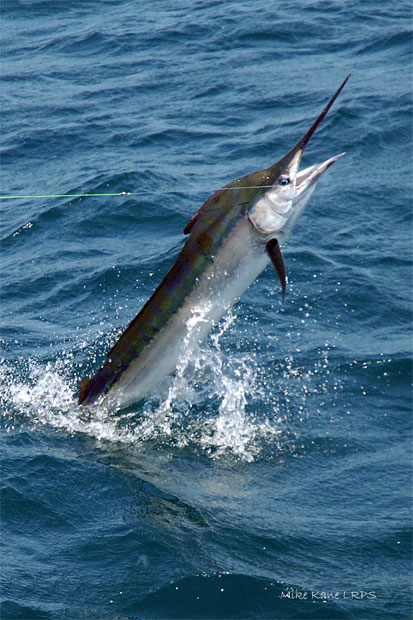 Weekend wrap up report to come. If you have some fishing from the weekend please don't forget to
email
in your report!