Townsville Still Little Blacks
A quick call came from Townsville GFC's Mick Miers yesterday to let us know that little black marlin are still being caught off Cape Bowling Green. Another two, in the 10-15 kg range were caught last week along. This is very unseasonal fishing for the north – and for the fish the fish to be that size still, begs to wonder where they came from.
Port Macquarie Golden Lure Update
Word from Steve at the Port Macquarie Golden Lure Comp – in the first two days of fishing, 60 fish were raised. Keeping the suspense in play, Steve's not naming names and tells me that an 18 Ft centre console was in the lead with 7 marlin followed by a 22 ft boat on 6.
I also heard that Capt. Adam Jordan's Iona was making a late run on the leaders adding 7 from 10 in fishing yesterday (Day 4 – Ladies & Juniors Day).  With the leading boat also adding fish yesterday, it sounds like it will be an exciting finish.  Fishing ends tomorrow with the presentation on the weekend.
Sunshine Coast Classic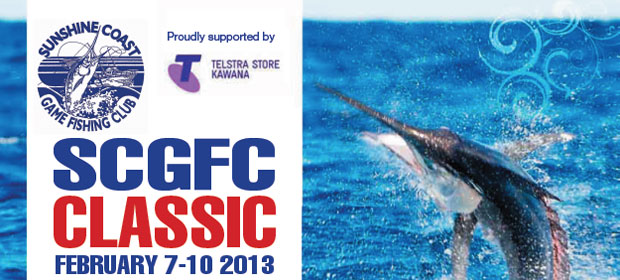 The SCGFC has been updated in the tournament calendar to include the tournament brochure. President Brent Higgens tells me that this year has been the best start to a season since the clubs creation by founding member Terry Parker in the early 1980's.
By New Years day the clubs anglers had reached 300 tags off the back of great weather leading up to Xmas and a consistent bite. Collectively members have been tagging 30-40 fish a weekend since, mostly in the 15-25kg range from the 18 Mile through to the Trench/Moreton Island. This week the club passed 350 tags and could threaten the record season of 749 in 98/99 if the bite continues, especially if the sailfish turn up for Autumn.
While 749 will take some beating the clubs best season for black marlin (457 in 04/05) looks likely to fall. With the SCGFC Classic scheduled for the 7-10th of February the club looks forward to excellent fishing.