The Gold Coast Game Fish Club hosted their annual Light Tackle Masters Tournament with 43 boats and close to 200 anglers competing made up of a good spread of small to large boats from 5.2m to 18.5m.
Once again the tournament was a huge success with a total of 55 black marlin being tagged and released and 64 other gamefish tagged over the three days including a mix of wahoo, mahi mahi & yellow fin tuna.
There was also a record number of lady and junior anglers competing (16 and 18 respectively) making it a very family friendly comp.
In the seniors' section, the ladies sure gave the men a run for their money. Meagan Thomsen on board Team Garmin, a 5.7m Kevlacat, braved the elements and with her 3 black marlin tags from Day 1, took out the Champion Female Angler overall award.  A terrific result for Meagan in her first tournament!
Another successful lady angler showing the men up was Sue Ballintine fishing on board the Cresta Afishionado with Capt. Simon Carosi.  Sue tagged a total of 4 black marlin over the three days, and took out Runner Up Champion Female (with 3 tags after dropping a day).
Champion Male Angler Barry Alty on Mistress also tagged 4 black marlin (3 tags on point scoring days) to take the award from Wayne Beak on Game Day.
The drop-a-day rule kept teams in suspense right through to the end of fishing on the final day. And while I hear there were several boats that finished on four tags overall, it came down to the the best two days fishing making Gold Coast boat Game Day the Overall Champion Boat prize winners!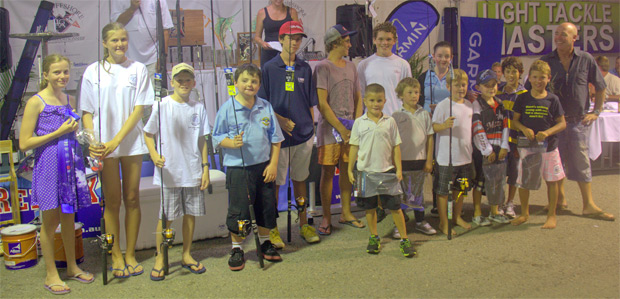 Every junior competing won a prize!
Full list of winners:
Champion Angler Male – Barry Alty (Mistress)
Champion Angler Male Runner Up – Wayne Beak (Game Day)
Champion Angler Female – Meagan Thomsen (Team Garmin)
Champion Angler Female Runner Up – Sue Ballintine (Afishionado)
Champion Angler Junior 
1st Aiden Cross (Hot Deal)
2nd Joel Newton (Grinner)
3rd Jayden Royal (Zeus)
Champion Boat Overall
1st Game Day
2nd Mistress
3rd Hot Deal
Champion Boat Light Tackle – Game Day
Best Tag Person – Troy Ilic (Mistress)
Champion Boat Heavy Tackle – Jugs
Champion Boat Over 8M – Game Day
Champion Boat Under 8M – Sea Eagle
Champion Angler Other Species Heaviest Fish Light Tackle
Wayne Beak (13.75kg Yellow Fin Tuna)
Champion Angler Other Species Tagged/Weighed Light Tackle
Shari Newton (4 x Mahi Mahi)
First Billfish Day 1 – Wayne Beak 7:58am
First Billfish Day 2 – Ron Stephen 7:54am
First Billfish Day 3 – Cath Doggett 7:28am
The dates for the next GCGFC Light Tackle are scheduled for the second weekend in January 2014.  And the CABO Hatteras Billfish Shootout proudly sponsored by Game & Leisure Boats is scheduled for the 12-14 April 2013.