QLD
Tim sent me this shot of a juvie black marlin from on board Afishionado during the Gold Coast GFC Light Tackle Masters over the weekend. He has aptly titled it "Priscilla Queen of the Desert" after the fun and games they had trying to get the red ribbon into shot as per tournament rules ;-) Congrats to Sue Ballintine who was the lucky angler on Priscilla!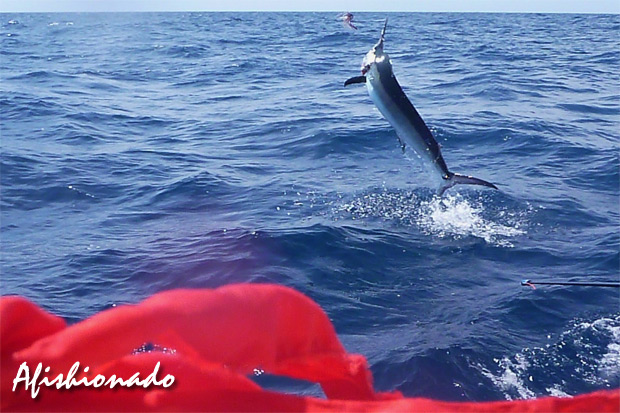 The tournament has wrapped up for another year, and while I am waiting for a full report, it sounds like once again those crazy martians have been playing hide and seek games with us with the fishing not quite as hot as it has been on the coast so far this summer. The Larva Lures team reported a total of 26 tags on day 1 and another 15 on day 2. Boats were able to chose their best two days fishing for the results, so it will be interesting to hear how it ended up on day 3.
Yeppoon's Scott Couter wants everyone to know that even though the little blacks are showing up well into NSW, there are still a bunch coming down the coast.  Scott says they are still catching the little blacks  there with an average of 2-3 a day.  They are also having a fair bit of luck catching Spanish mackeral and cobia between the billies in 30-40m from Flat Island down to Great Keppel.
NSW
The Port Macquarie Golden Lure comp is on a lay day today so I will endeavour to get a progress report from them too. Outside the comp, there have been more reports of fish here and there all the way down to Port Stephens and Sydney with the usual stripes in the mix as well.
Nick Vella reported a particularly good run off Botany Bay on Saturday for the Botany Bay GFS point scoring day.  Nick reports that they tagged 4 from 4 striped marlin on Nic Nat, while Bar Magic tagged 2, Tomahawk and Marquis each tagged 1.
Off Port, Andy reports a tough day in hot water for Fritto 1 for an afternoon strike from a blue marlin which was eventually brought beside the boat an hour 15 minutes later.