Redcliffe Australia Day Billfish Tournament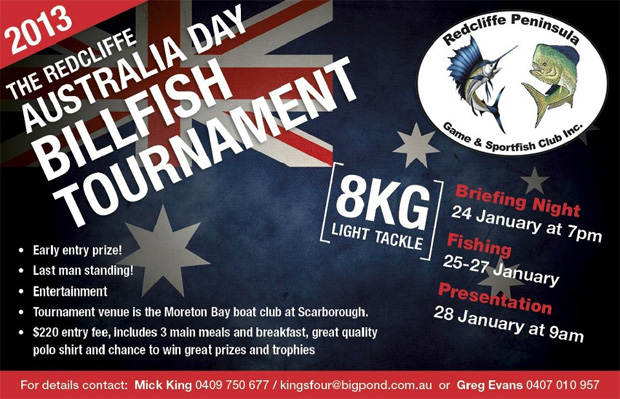 The Redcliffe Australia Day Billfish Tournament was held over the weekend after being postponed from the weekend before (weather again!) In all, 65 anglers and 14 boats competed. The Champion Boat award went to Playin Hard with Runner-up  Sea Eagle .  The Under 7m category was won by  Hard Yakka.  Mick King reports that the water was green and bait scattered which resulted in only 3 blacks being tagged (although plenty were lost). The Champion Angler was Ethan Harrington fishing on Playin Hard. The Champion Angler Other species was Greg Caporn on Kaizan.
 Bermagui BlueWater Classic 2013
The Bermagui Bluewater Classic was held over the Australia Day long weekend and the club has now posted the results. Unfortunately the weather played a big role in the competition with Sunday and Monday deemed un-fishable for safety reasons, but the one day that was fished, was quite successful with 14 marlin were tagged along with a host of other species.  73 boats and 285 anglers competed.
View the full results here.
Other Bit(e)s and Pieces
Steve Bedwell tells me that he's heard the black marlin have show up in Jervis Bay and that they are getting them of the rocks!  And I had some photos from the Ben and the boys on Gaven Robert's Striper on Sunday out of Weipa.  Darryl French (Frenchy) with his sailfish boatside, as well as Gaven and his 9 y.o son Dylan Roberts with Dylan's fish.  Also on board was Reid Benson who steered them all in the right direction all day.