Ladies and gentlemen – we have a winner!
The 2012 Lizard Island Black Marlin Classic was the stage yet again for another round of the Great Marlin Race. 5 satlite tags were provided and sponsored by Peter Teakle to track the movements of these giants and provide valuable information including its location and depth, and the surrounding water temperature transmitted to the scientific team at Stanford University once the tag detaches from the fish and floats to the surface.
While the tags were planned to be launched during tournament fishing, only 1 actually was – the first one – with the remainder redistributed among boats continuing to fish and launched in the two weeks after.
2012 LI Great Marlin Race Tag Tracks
And congratulations to the team on KEKOA whose fish was the standout winner traveling a total of 1,875 nm from where it was tagged as shown in the graphic above (Number 5).
Summary of the launchings:
Tag 1 is deployed 26-Oct-12 into an 850lb black marlin at No. 8 Ribbon Reef by Capt. Simon Carossi's team on Afishionado.
Tag 2 is deployed 2-Nov-12 into an estimated 1200lb black marlin at Opal Ridge by Moana
Tag 3 is deployed 5-Nov-12: into an estimated 1000lb black marlin at No. 8 Ribbon Reef by  Capt. Bob Jones' team on Iceman.
Tag 4 is deployed 7-Nov-12: Capt. Ross Finlayson's team on Top Shot tagged a 400lb black marlin on No 5 Ribbon Reef.
Tag 5 is deployed 11-Nov-12: Capt. Luke Fallon's team on Kekoa tagged a 800lb black marlin, by angler Scott Taylor at Spur Reef.
On December 7th 2012, Tag 4 surfaced 91 nm from where it was deployed. On December 15th, 2012, Tag 2 reported just 6 nm from the starting point. On, December 29th 2012, Tag 3 reported 1,360 nm away from where it was deployed (the second farthest distance). The next Tag to surface was Tag 5 on January 19th 2013, an astonishing 1,875 nm away from where it was deployed! The last tag to surface was Tag 1 on January 25th 2013, with a distance of 356nm.
What I found most interesting was the similarity in tracks to the fish from the 2011 marlin race (graphic below). Also, with the location of the two tags which popped early in the first half of December, validating what we were saying last year about the water not getting hot and the potential for the fish to hang around well into December.  You can draw your own conclusions and look at the data yourself here.
2011 LI Great Marlin Race Tag Tracks (for comparison)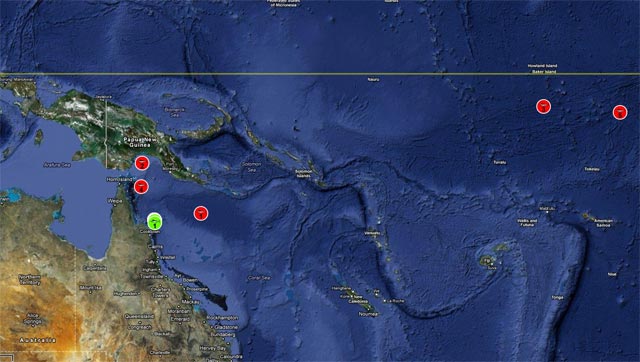 And also for those interested in the data for the results of Exmouth GFC Great Marlin Race from Gamex 2012, those results are here.
Become a Marlin Race Sponsor!
This year the Gold Coast Game Fish Club Inc. will be holding a leg of the Great Marlin as part of the Cabo Hatteras Billfish Shootout in April.
The club is looking for individuals, groups or corporations to sponsor tags for the competition – doing so will provide you with a fantastic opportunity to participate in a fun scientific adventure that will contribute to the sustainability of billfish and the future of our sport.
Each sponsorship category gets to name their tag and this will appear on all websites that display the results which include: IGFA and Stanford University as well as the club website.
An education briefing will be conducted on the briefing night of the tournament to ensure all crews are versed in the required techniques for successful tag deployment.
If you are interested, please contact:
Con Polkinghorne on 0417 096 664 or via email or,
Shari Newton on 0415 910 060 or via email.