While SEQ and Port Stephens have been getting all the attention, other areas are likewise producing the fish.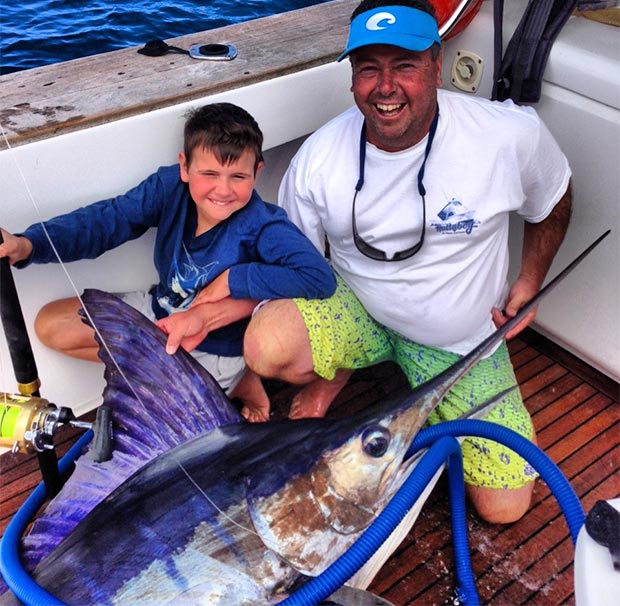 Marijana sent me this photo of her 8 year old Patrick Dwyer and his 1st striped marlin weighing 85kg caught on Saturday off the coast of Eden aboard FV Polaris. Marijana reports that it took Patrick 55 minutes to reel it in. Not a bad effort for his 1st fish (and for an 8 year old!). Good fishing over the three days with the total tag tally 10 from 14.
Congratulations Patrick – he looks stoked doesn't he!
Solitary Islands GFC had their Ladies and Juniors "Introduction to Game Fishing Day" on Sunday and while conditions weren't fantastic, there were a few fish caught. Nine year old Kaitlyn Lastavec stole the show with the tag and release of a black marlin in her first hour of game fishing, followed by a second marlin half an hour later!
Harry Crawley also tagged his first game fish — a yellowfin tuna. Congratulations to both!
Don't forget the Solitary Island's GFC's Heavy tackle Challenge will be held from 23rd to the 24th of March 2013, with the briefing at the Coffs Harbour Yacht Club on the evening of the 22nd.
And boats not fishing the Shootout on the weekend got into the marlin as well.  Broken Bay GFC reported that club boat, the Findlay brothers' Murrifin, had a great day Saturday going 3-2-2. One blue marlin on 15kg estimated at 130kg to Andrew Disco Davis and the other blue marlin on 15kg line around 100kg. Sunday saw them with another 2-1-1 this time tagging a small black marlin in 300 fathoms.