Cabo~Hatteras Billfish Shootout Tournament – Port Stephens
Tag & Release top 10
10 – Finsanity    25,000
9 – Frito1 25,000
8 – Little Audrey 27,500
7 – Blue Blooded 30,000
6 – The Cure 37,500
5 – Born Free 37,500
4 – The Slippery Gypsy 50k
3 – Game On 50k
2 – Rackem Up 61,500
1 – Billistic 87,500 (Also Champions Under 8m)
Josh Dickson  won the First Marlin by junior and Champion Male. And Champion Junior Female went to Jacinta Thomas on Amokura.
Capture and winning the 25k prize money was Paceemo's Heaviest Marlin which weighed in at 176kg (blue marlin).
I have to say a big thank you (and congrats for taking out 9th place) to Andy on Fritto 1 for the winners update.
SEQ Little Blacks and Sails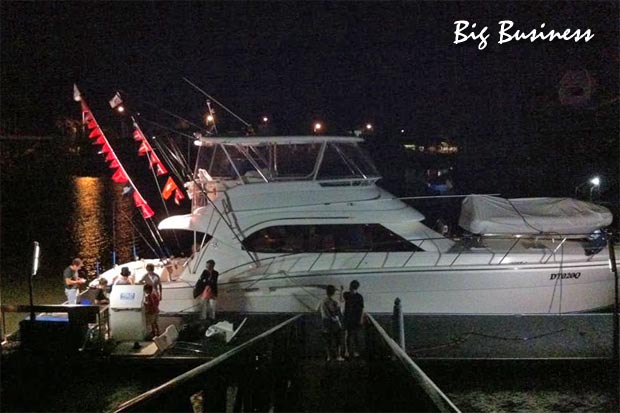 Big Business fished the Trench area off Moreton Island on Friday to what turned out to be a standout day on the water and what David called one of those once in a life time "epic" days. Fishing started with lines in the water at 6.50am and they were hooked up to their first marlin less than a minute later. During the day they had 2 quadruple hooks (1 fish from 4 on one, and none from the other) 1 triple hook up and one double.
By the days end – they tagged their last fish at 6.50pm – the stats were an overall 55-38-17 (9 blacks, 2 sails, 4 yellowfin tuna and 2 wahoo) or a billfish only 49-32-11.
It was a comedy of errors that you can only truly experience when things are that hectic on a social trip out. 6 fish were lost at the transom at the tag pole, 4 bust offs just short of the tag pole from angler error, 3 bust offs for no apparent reason (maybe to many cocktails:-) as well as 8 others that just didnt get the hooks set.
David says the early evening bite was particularly spectacular with 4 fish tagged within 40 mins  where they couldn't even get a full spread of baits set before being hooked up and doing battle again. In his 12 years of marlin fishing David says he has never had a day with so many shots on marlin!
SEQ continues to prove week after week (weekend after weekend?) that the season of little black marlin is not over. This is good news for some upcoming comps – are you ready?
The Little Ship Club's annual Game Fishing Competition kicks off this weekend starting fishing Friday morning, continuing Saturday with the presentation on Sunday morning.  For more information please phone Steve Carroll on 0412 843 777.
With the heavy tackle fishing out wide beginning to heat up and the light tackle marlin fishing still producing consistent numbers, the signs are good for another successful All Species, All Tackle Tournament in March for the Surfers Paradise GSFC. The event also includes a Lady Fishers GAme Fishing Classic on Feb 8th which is the perfect opportunity to get the ladies in your life involved in fishing!
More details in the Tournament Calendar.