PORT LINCOLN TUNA CLASSIC RESULTS:
The tournament benefited from both excellent fishing and great weather. Nina tells me the tuna were everywhere and the ocean, flat calm~! This year the event also created history with 897 fish caught and released in the two days fishing from Saturday 9.00am – 6.00pm and Sunday 8.00am – 3.00pm! They believe it is definitely an Australian record, and pending World record!!
The final results were:
CHAMPION BOAT:
1st: C'world 125 fish (Bryan stokes)
2nd: Majessnik 107 fish (Russell Bianco)
CHAMPION TRAILER BOAT:
1st   Mistress with 38 fish (Andrew Sammut)
2nd  Shockwave 18 fish (Richard Webb)
MALE CHAMPION ANGLER
Elio Auciello on Majessnik with 43 fish
Runner Up: Rick Tidswell on Jazz 2 with 37 fish
FEMALE CHAMPION ANGLER
1st  Meghan Tapley 29 fish
Runner Up: Susan Tarbotton 22 fish
Champion junior:
1st Pamela platt on Noble One with 19 fish
2nd Bailey Godwin with 9
The event finished off at the Port Lincoln Hotel where everybody had a great time and 3 beautiful rods and reels was given to the three juniors by Bob Hutchinson, owner at Spot On Fishing and Camping Port Lincoln. 32 Trophies were handed out in total.
A big thank you to Nina Mattingley for the report!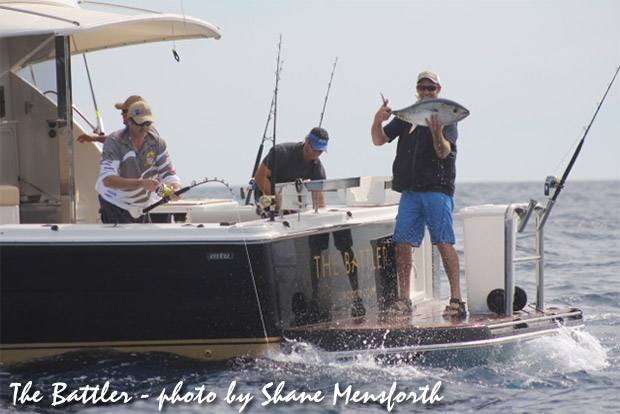 Photo is Peter Teakle's The Battler skippered by Bobby Jones with from left: Mike Sinclair, State manager of Club Marine is SA and northern Territory,Adrian Bothur Male Champion angler in 2011, Matt Calder from Hamilton Island.
—
I also had a quick email from Nicole who owns Game Over with husband Darren. They've been teaching their youngster the love of gamefishing with son Mathew Sandy (aged 9) tagging his first black marlin whilst fishing the Tag and Alliance Tournament held at Bermagui this year in early March.  He won Champion Junior Angler and Highest Point Scoring Angler on Day 2.
Nicole tells me he then followed up this weekend and tagged his first striped marlin whilst fishing the Eden Game Fishing Tournament!
Congrats Mathew!!