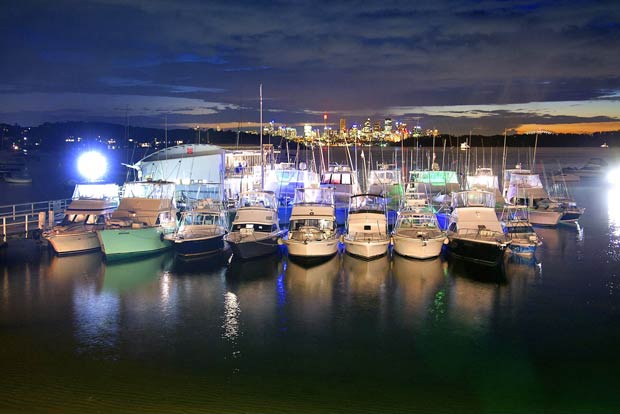 Sydney Game Fishing Club, Little Audrey, 2013 Peter Goadby Memorial tournament was held over the weekend in light winds and overcast conditions. Many boats reported slow fishing over both days and dodging water spouts and storm clouds seemed to keep most captions busy, with plenty of interesting pictures taken.  A total of 5 marlin were tagged during the tournament, and a host of other game fishing also included in the mix. The 'Champion Boat Tag and Release', was Team Tanacious, who landed themselves among other prizes, a 3 day live aboard trip to cairns, for 4 people, during the heavy tackle season. In runner up position was Seadeuce who also tagged a marlin and couldn't find the winning mahi mahi! The lady anglers on Team Smart Bill continued their good run this season, with Elena Smart tagging one short billed spear fish to take out 'Champion Lady Angler' and 'Tag and Release Other Game Fish'.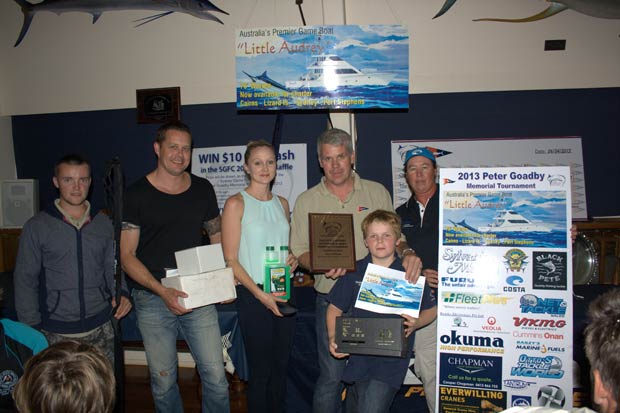 On the capture side of things, there were no marlins weighed during the tournament however, Team Blood N Guts successfully boated a nice 97.4Kg Mako on 8Kg line to strategically win champion boat capture with 8,597 points and crewman Nathan Sowter finished with 'Champion Angler Capture'. Runner up was Sniper who captured a 124.2Kg tiger shark on 15kg line to finish with 3,856 points. Of particular note was the capture of a 61.7kg yellow fin tuna by SGFC boat Na Langa, who took out the most meritorious other game fish prize.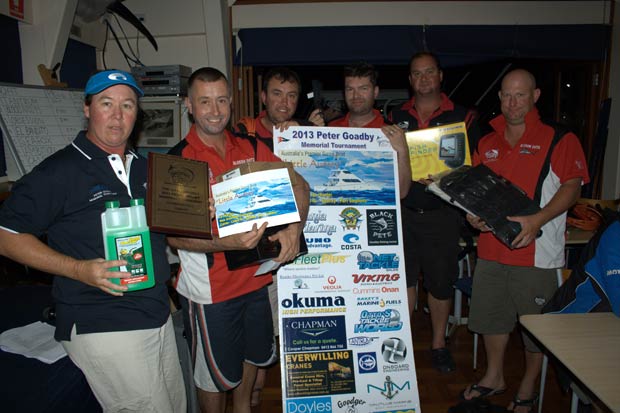 On Saturday night SGFC concluded their major Raffle selling all but 2 tickets of the 200 tickets. The $10 000 was won to a very lucky John Hartley, who was reportedly sold a ticket at Port Stephens by an excited Pitchy during this year's interpub.
Well done to all of the competitors in this year's tournament, with 39 boats entered the usual giant raft-up was good fun and a great way to meet other likeminded fishing fanatics. We hope to see everyone again next year, or at our Mako Tournament in August.
The full list of winners from weekend is listed below:
Champion boat Tag & Release: Tanacious 11,531 pts
Champion boat Capture: Blood N Guts 8,597 pts
Runner up Tag & Release: Seadeuce 11,500 Pts
Runner boat capture: Sniper 3,856 Pts 124.2 kg Tiger shark on 15kg
Champion Male angler: Gerry Jansenberger 11,500pts
Champion male capture: Nathan Sowter 8,597pts, 97.4 kg Mako on 8kg
Champion Lady: Elena Smart 5,750 pts short bill
Champion lady: capture not won
Champion Trailer Boat Tag: Finsanitty 11,500pts
Champion Trailer capture: Blood N Guts 8,597 pts
Tag & release marlin: Seadeuce 11,500pts
Champion Junior: Not won Capture
Tag & release shark: Blood N Guts 2,500
Most Meritorious shark: 8,597 97.4 kg on 8kg
Tag & release OGF: Smart bill 5,750
Most Meritorious OGF: Sanga Na Langa, 61.7kg Yellow Fin on 24kg
Champion Junior: Josh Dickson NSW Junior team, Nemo 62pts
Champion small fry: Jack Purkis, Tanacious 77pts
Tag & release results
Tanacious 11,531
Seadeuce 11,500
Finsanity 11,500
Tantrum 10,000
Double trigger 10,000
Rare Breed 8,500
Smart bill 5,750
Just Chill 5,000
Blood N Guts 2,500
Carnage 2,500
Gale Force 62
Murrifin 62
Nic Nat 25
Thank you very much to Daniel Kirkby for the full report!