There are a few blue marlin keeping anglers interested off Sydney. David sent me a note to let me know that several fish over 200kg have been destroying anglers on 15 and 24. He also reported that Goliath went 2-1-1 striped marlin (110kg) in 700 fathoms on the weekend. David says while there is still lots of green flood water, and not as much bait, there seems to be a few fish in it for the dedicated!
This is good news for the upcoming Port Hacking 100 tournament in two weeks. Check the tournament calendar for more details or follow them on Facebook here.
More tournaments ongoing at the moment: In Costa Rica, there are several teams representing Australasia competing in the Offshore World Championships. We are approaching the end of the second day's fishing and its looks like one of the teams from GFA of PNG (National Titles Team) are holding onto a narrow lead with 4 fish on day 1, and 10 on day 2 – all sailfish.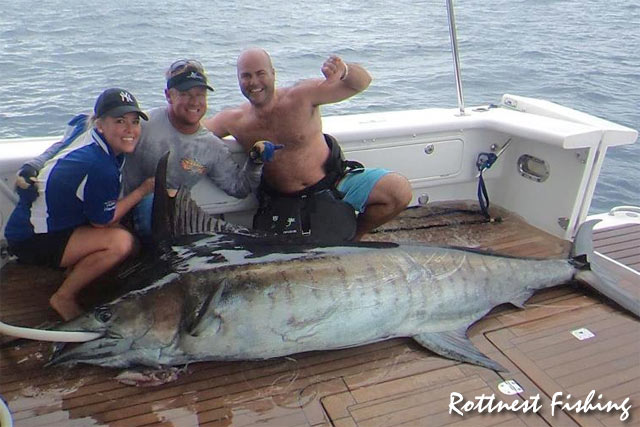 In the west, the Geraldton Offshore Fishing Club's Halco Tackle Abrolhos Islands Game Fishing Tournament is also mid-way through.  While Halco Tackle are reporting that the mackerel are running at the comp, there have also been several marlin (four tagged yesterday).  Rottnest Fishing's Capt. Johno Wroth tagged this blue for angler Hamish Beck on Day 1. It was Hamish's first marlin and also the first fish on his brand new boat and so was carefully brought on board for a quick pic before release. Congratulations Hamish – great way to christen the boat!
This weekend the postponed Cabo Hatteras Billfish Shootout goes ahead. I heard several boats were out yesterday for a looky and while the conditions look good, no luck for any on the beaky nosed creatures.  Hopefully they show up this weekend as well.