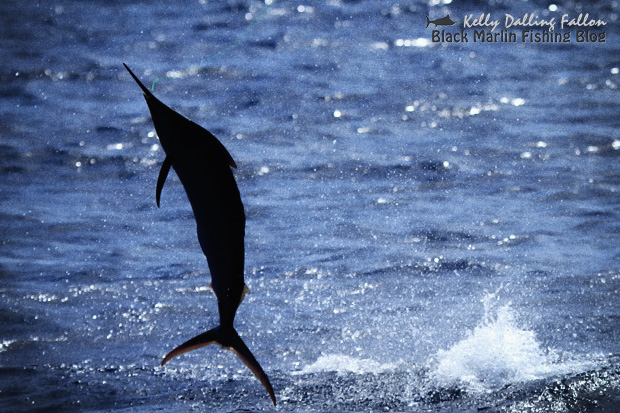 Each year Haven Charters' Capt. Scotty Thorington and his deckhand Jay "Junior" Househam, pack up and literally move to Port Stephens for Port's marlin season. And each year they set themselves a  target of 100 marlin for the season.  I love seeing how they are going against the target each year. It's a great measure of how the season is fishing (and Scotty always fishes well) and I'm sure its a great incentive for them as well.
This year, as we know, its been a very different year at Port.  And there have probably been stages this year when they thought they were never going to make it. Not the least last week when they were record chasing on 3kg tackle, or earlier this week when they were stuck on 99 fish for two days… But alas, it was always going to come and it did yesterday with number 100, and then number 101 released. Congrats Team Freedom!
What I find even more interesting though is the makeup of this year's 100.  97 black marlin and 3 striped marlin. And not a single blue.  Jay says they also got a few nice ones mixed in with the little ones – try fishing light tackle on 8kg line when a 300lber jumps on!
This is just demonstrative of the great run of little black marlin the entire east coast has seen in the past year. Where did the stripes go? (They were in the 120's by this time last year with the vast majority of which were stripes.)
The good news continues in the north I hear (over on the east coast, as I'm currently on the west coast) with the little blacks are already showing up again up there.  Bounty Hunters' owner Greg Sims says that they caught their first little black of the season this week off Cairns. He was fishing for mackerel and decided to do a quick lap of the marlin grounds and it worked!  Greg says he's heard of several more caught in Cairns and Townsville in recent weeks as well.  Here's hoping that its a repeat of 2012 for the north.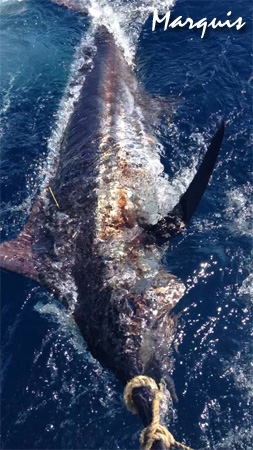 Back off Sydney, following up on the blues mentioned yesterday, Gerard sent me some pics from on board Botany Bay GFC boat Marquis on Sunday. Gerard was the angler on this fish that they estimated at 250kg.
Gerard also told me that Marquis was back out yesterday for a 3-0-0 having a go at each of the three species – a black, a stripe and a blue! Thanks Gerard and congrats on the fish!

And my bad geography has now been corrected in the post below. Thanks to both for letting me know! :-)