There have been a few more reports of small (small!) black marlin showing up in North Queensland over the weekend.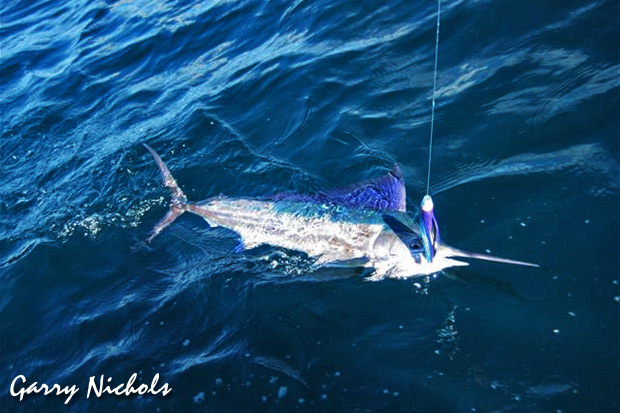 Raymond White took advantage of glamour weather conditions on Saturday off Mission Beach going 1 from 1. And Garry Nichols also sent me a report from his (and Brett Ward's) 1-1-1 off Cardwell on Sunday (photo) – hilarious report Garry! I've included the full account of the little black, plus the first mistaken identity, below. They are indeed very small and so if you are going to tag them, tag placement is very important.
Word from Townsville is that several were seen with one tagged at Cape Bowling Green (thanks Ben!)
A couple of tournaments have wound up and we are eagerly awaiting the reports – namely the Cabo Hatteras Billfish Shootout off the Gold Coast on the weekend (I hear a dozen marlin were tagged – including at least one blue marlin sat tagged) as well as the Halco Tackle Abrolhos Islands Gamefishing Tournament hosted by the Geraldton and District Offshore Fishing Club. Stay tuned for those!
And also Nick sent me a report of another blue on Manic fishing wide of Point Lookout on the 400m line on Friday who landed an estimated 250kg blue for angler Dino Rosa. Thanks Nick!
Garry's Full Report
And so it came to pass that Cardwell's finest, the Zane Gray of Red Hill, Brett and I hit the boat ramp at 5.30am……just! You see I live in Innisfail, that meant a 3am rise. I think I prefer the Game fleets thoughts of yesteryear where you dragged yourself out of the bunk, around 9-10am, weather you needed to or not. Of course I was told to toughen up….yeah right!
Past Cape Richards we were greeted by perfect condition for trailer boats, but not necessarily marlin fishing. The fact that one bird got our pulses racing will indicate how things were. As a result of the lack of activity in close, Brett decided to run out the the 40m line, where we did find some bait schools. It was near one of these schools we took our first strike, around 11am.
We were both having a quiet moment after the adrenalin rush of spotting the solitary tern several hours past. Brett was doing his best at imitation noddy at the helm, whilst I maintained an eagles eye watch on the spread. I caught a glimpse of "the Marlin" as it launched itself skyward.
Brett's instincts cut in at the sound of a screaming reel and he plunged the throttle to sunset just as I was making an effort to rise from my seat to take control of the situation.
Now mathematical calculations are not my strong point but results are, for instance take 150 x E-tek torque to max going forward + 85kg going back at now close to warp speed + aging and not so able body = result….. not good. The benefit however was that I reached the rod well in advance of Brett, now it was my turn, I was in control. Brett, got the tag ready I barked. Some people express themselves with words, some by body language, others use all of the above and more.
Brett is not big on words, but the questioning, almost pleading look he gave me, along with "are you sure you want to do this" unsettled me……for a second. Poor bastard is going soft I thought but responded with "It is our national duty as gamefish club members to tag every billfish we encounter, research mate!"
Reluctantly the tag pole was loaded, ready, waiting____, alas it was not to be, the blood curdling, guttural exclamation of "bloody 'cuda" along with a look that could kill had me searching for excuses that did not exist, s#*t. My only solace was the waves lapping against the hull, like I said, Brett is a man of few words, bloody amazing how well he gets his message across though.
Much, much later, we headed back to the 30m line down but not dusted.
I did eventually land a black, the only one for the day was now swimming along beside the boat. A very small but magnificent creature, no more than 6kg. To give you an indication of the physical size of the fish, the lure in the attached photo is 22mm in diameter at its widest point.
"Ya still want to tag it?" Brett asked.
My visions of this poor little creature being released with a tag large enough to upset its equilibrium, protruding form its frame like a flag pole on ANZAC day was too much for me. Nu, lets get a photo and let it go.
They are out there and they are small and feisty. Be gentle with them, please.