More from the little black marlin in North Queensland over the weekend: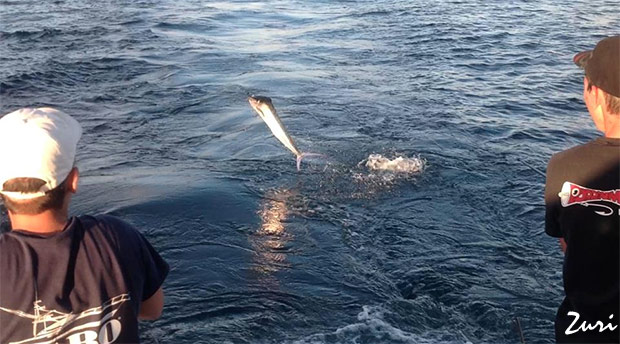 At Cape Bowling Green, the Nicolosi clan on Zuri notched up their first little black of the 2013 season with this little tyke above.  Donna says that this fish, caught by son Alex, was tiny in the 4-5kg range.  The trio of Simon Gough, Brad Cane and Mick Davidson also christened their new boat Silverback, tagging a black nearby. While Donna says that Mick Dykstra's Reel Crazy also dropped a few as well!
And off Cairns, Michelle on Bounty Hunter also missed one on Sunday to show that last weeks wasn't a one off either!
Gold Coast GFC Cabo Hatteras Billfish Shootout
Congratulations to all compete with conditions on Sunday described as extremely lumpy at best!
Congratulations to Leigh Holtsbaum and Andrew Turner on board Game Day who won overall with two blue marlin, from Katie Ripper and Bruce Keown on Castille III, also with 2 blues.  Katie also won Champion Female Angler for her blue marlin on Day 1 which was also tagged with the only Sat Tag launched during the comp as part of the great marlin race – I will be great to hear in upcoming months just where the fish ends up! Katie tells me the fish was mighty healthy when released, and even gave the boat a nice whack with its tail on its way off.  (Photos of the action on Castille III below – thanks Katie!)
Third place went to the team on Addixion with one blue and one black  marlin.  Champion Angler went to Warner Lamb on Akura who tagged the first blue marlin of the comp. Champion Junior was Aiden Cross  on Hot Deal with a blue marlin, while Jarrad Jones was runner up with a black marlin on Addixion.
Overall, 23 boats competed with 13 marlin tagged over the two days fishing – 11 blue, 1 black & 1 striped marlin.