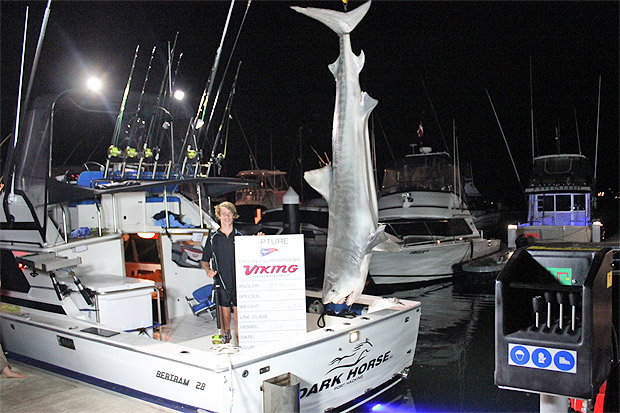 The 36th Viking Diesel & Electrics Port Hacking 100 was once again held over the weekend of 27th -28th April out of Port Hacking. This year's event saw over 140 anglers competing on 40 vessels from multiple clubs up and down the NSW east coast. Day one turned on mirror like conditions with the T&R fleet heading wide targeting blue marlin and tuna. Local club boat The Outlaw, fought an estimated 180kg plus blue on 24kg for over an hour before unfortunately loosing the fish. In the Capture Division most notably, junior angler Sam Barning weighed a 282.2kg tiger shark on 10kg line off his dad's boat (PHGFC President) Dark Horse (which is a pending Australian Record Claim – photo above). There were also a few other smaller captures of other sharks and a nice big eye tuna at 66.5kg along with various other T&R species including striped, black and blue marlin and yellowfin tuna.
Day two again saw the weather gods offering up near perfect conditions for what was becoming a closely fought battle in both divisions as multiple boats were within a stone's throw of each other. Shellharbour vessel Outcast hooked a nice size mako after spotting it lurking in their slick, eventually the fish weighing in at a very respectful 327kg on 15kg. The weekend concluded with a Sunday night award presentation in front of 130 guests. By all reports to date the tournament was a fantastic success, so thank you to all competitors and sponsors, we look forward to seeing you all again in 2014.
Champion Boat T&R – Conflict, Jervis Bay GFC
Champion Boat Capture – Outcast, Shellharbour GFC
Champion Male Angler T&R – Lindsay Green, Jervis Bay GFC
Champion Male Angler Capture – Trevor Dowse, Shellharbour GFC
Champion Female Angler T&R – Robyn Kirby, Sydney GFC
Champion Female Angler Capture – Alex Durham, Sydney GFC
Champion Junior Angler T&R – Darcy Hannan, Port Hacking GFC
Champion Junior Angler Capture – Sam Barning, Port Hacking GFC
Champion Small Fry Angler – Jack Purkis, Sydney GFC
Ports Stephens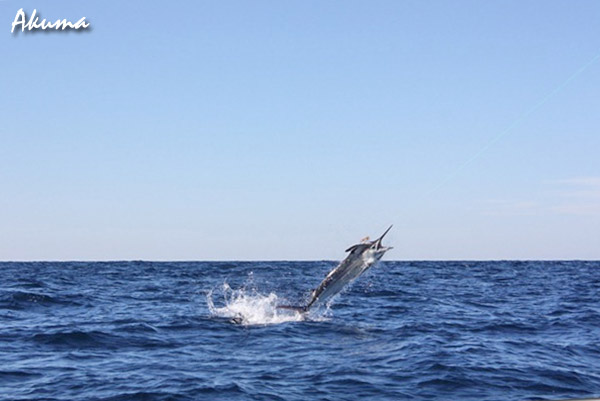 Jarahd sent me some pics from Akuma last weekend (above and below).  It was a day for the juniors with the skipper's 6 old daughter and Jarahd's 9 year old niece on board. A great day, nobody got sick, smiles all round and a couple of marlin were enountered as an added bonus!  Jarahd said they hooked a black around 50kg that threw the hooks a few feet from the tag pole, followed by another black around 90kg. Thanks Jarahd for the pics!
Departing Port Stephens to return to the Sunshine Coast with the family's Lynchmob in the last couple of days, Conor tells me they managed to get a nice stripie around the 130kg mark NE of Coffs in 280m of water. The angler was Mark Bird and Conor says it was only the two on board which made it especially fun!