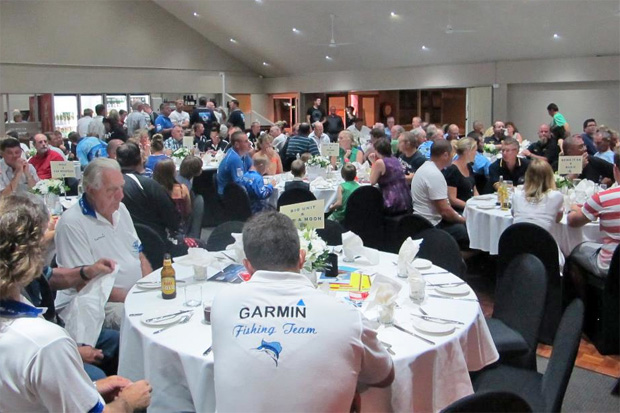 On the 27th and 28th of April 2013 the Mooloolaba Game Fishing Club held its annual Billfish Bonanza in near perfect weather conditions.  112 anglers on 25 boats competed in the event held out of "The Yacht Club" at Mooloolaba Marina. 6 Separate QLD clubs were represented along with a team all the way from the Broome Game Fishing Club – which has started an annual interclub competition with the Mooloolaba Game Fishing Club.
The fishing was reasonable with the point scoring fish on 8kg line class being, 4 black marlin, 6 sailfish and 21 wahoo while 3 blue marlin were released on 24kg and 37kg line classes.
In the hope of attracting small boats and building a bigger atmosphere, the points for heavy and light tackle billfish were made equal for this event and it worked well in the conditions giving all boats opportunity to compete in the major awards. Another feature of this tournament was that only tagged and released billfish would qualify – an initiative the club has renewed for the last 10 years.
Overall, there were 160 strikes, 121 hook-ups and 74 fish recorded – with numerous mahi mahi, yellowfin tuna, cobia and mackerel as well to keep crew entertained between beverages. The light tackle was the feature of day 1 with all 4 black marlin and 6 sailfish being caught. Non qualifying fish were mostly tagged and released to grow to maturity.
Champion Boat over 7m – Kajiki
Champion Boat under 7m – Reel Hunter
Champion Female Angler – Kourtney Kersnovske
Champion Junior Angler – PJ Bennett
Champion Junior Angler (runner up) – Jack Grimes
Champion Light Tackle Angler – Mick Stewart
Champion Heavy Tackle Angler – David Trask
Champion Angler Other Species – Jack Grimes
The MGFC's next major tournament is in late November and is the Billfish Bash see you there!
With thanks to Nathan Douglass (MGFC President)!