A couple of tournaments were held over the weekend with reports to come – including the Port Hacking 100 and Mooloolaba GFC's Billfish Bash. I'm also expecting a report from Glen Booth from Coffs Harbour who tells me that there were a few blues around there on the weekend and even calm weather for a change.
In the meantime, a few bits and pieces of good fishing from along the coast: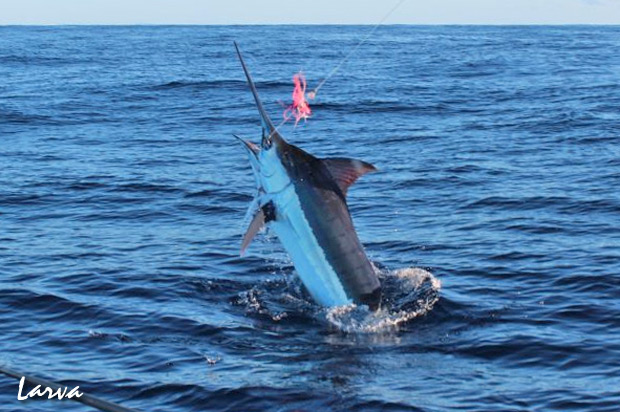 Larva Lures Larva had a top day on the water off the Gold Coast going 3-3-3 consisting of 2 blues and 1 striped marlin, all before lunch. They were amongst several boats getting amongst fish off the Goldy in the past few days enjoying some glamour weather. On Thursday, enjoying the public holiday out, Capt. Brent James put wife Hayley onto a new potential Queensland record 77kg striped marlin on 15kg line on Comocean. Congratulations Hayley (photo bottom)!
Back down at Port Stephens, Capt. Scotty Thorington's Freedom has departed for his home port (to chase the kingys) with a grand total of 103 marlin for the season – 101 black marlin and 2 stripes. And Andy tells me that over the weekend Akuma tagged a 90kg black marlin wide of Port in the George Besoff comp.  They also got stuck into the dolphin fish and came across a black marlin on a baitball on the way in yesterday but chasing a bridge into Lake Macquarie, couldn't hang around to chase it!
Back in the 'north', Scott Coulter also tells me that the odd marlin have turned up off Yeppoon in the last 2 weeks with tales of encounters going round at the tackle shop. Scotty's been chasing mackerel and bottom fishing of late but will have a look over the marlin grounds this weekend and let us know what he finds! Justin "Scooter" Andrews likewise tells me he had a great day out on Ashley Warland's boat Gamestar along with Ross Martin on Anzac day in the Whitsundays. They went 2 from 2 on juvenile blacks on the western side of Hayman Island , in water you'd be happy to catch a barra in! Justin reports that both fish were caught before 9.30 am on the last of the making tide. One fish was around 20kg and the other a pup at around 4kg! And there was plenty of bait marking at all the usual haunts. Thanks Justin!