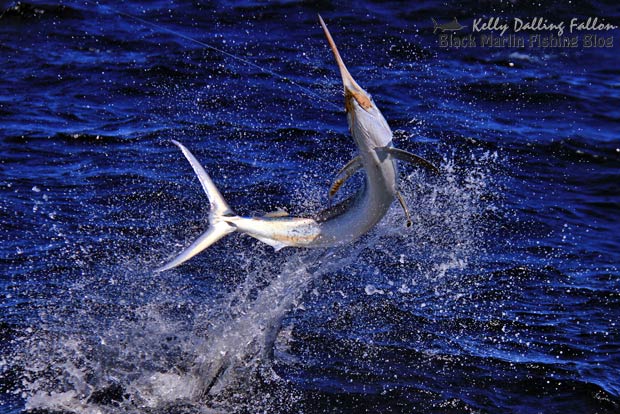 More little blacks are being reported in north Queensland. Bounty Hunter has released two in the past two days amongst a bunch of mackerel as the rest of the day's offerings – although at least one was a fair bit bigger than the tiny variety already reported. And Ashley tells me that Scotty Hillier also released one off Cardwell on Wednesday as well.
On his way to the Gold Coast on Wednesday, a quiet day turned into mayhem for Capt. Ken Brown and his solo angler Simon Marshall on Megumi with a successful double header on blue marlin. Ken said one fish was a solid 450lbs with the other about 400lbs! Great effort and congrats to Simon!
Kurt tells me he fished heavy tackle on board Seekin' off Point Lookout yesterday in brilliant Anzac day conditions and found good water but no run, birds or bait. They did get a nice little shortbill spearfish in 580m at midday. That all they saw fishing until late.
And lastly Adam sent me this compilation video of him and mate Jarrod chasing pelagics out of their 4.5m tinny from New Years to April. There is plenty of small black marlin action including a successful double hookup on 30lb spin outfits as well as a bunch of other stuff including spanish mackerel, cobia and tuna. Thanks Adam!