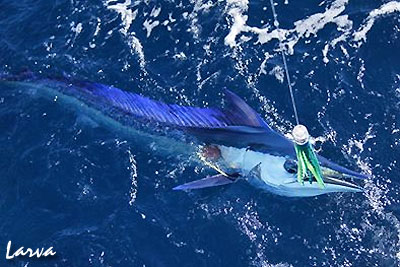 A nice surprise for the Larva crew fishing for yellowfin off the Gold Coast on Sunday with a shortbill spearfish.  The fish was the first billfish of the new club year/season and also a first shortbill for angler Kurt Frazer.
The boys also weighed a 55kg yellowfin for Kurt as well.
And Solitary Island's Glen Booth tells me that there are a few beaky nosed creatures floating around off Coffs as well.  Glen says that a mate of his hooked a 70 kilo black marlin on a soft plastic there last Sunday, and another was hooked on a paternoster rig!