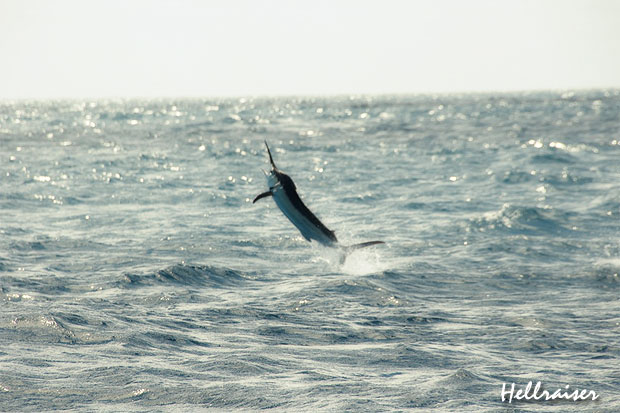 Congratulations to the team on Hellraiser whose consistency throughout the comp saw them take the honours on the final day. With no fish reported on the first sked, it was an action packed and nerve wracking afternoon that saw them add one fish firstly to overtake Day 2 leaders New Moon, and then another to cement the lead.
Final Results:
Hellraiser 6 tags
New Moon 4 tags
Bounty Hunter 4 tags
Updated with official results below.
Reminder: The Ladies Ribbons Committee are looking for boats for the 30th anniversary tournament to be held on December 7. Skippers, if you are available, please contact Ladies Ribbons VP Kay Fallon on 0438 330 769.
Official Results:
Stats
Day 1 Raised 46 Hookups 26 Tagged 16
Day 2 Raised 36 Hookups 20 Tagged 10
Day 3 Raised 48 Hookups 33 Tagged 14
Total tags black marlin 33, sailfish 7
Boats competing 31
Champion Team Overall Hellraiser 2
Champion Boat/Team 7.5m and Over  Hellraiser 2
Champion Boat/Team under 7.5m Reel Fun
Champion Male Angler Ross Martin on board "New Moon" Tagged 3
Champion Female Angler Emily Griffen on board "Hellraiser 2" Tagged 4
Champion Junior Angler Tia Pickering on board "Reel Fun" Tagged 2
First Billfish Day 1 Greg Sims on board " Bounty Hunter"
Last Billfish Day 1 Stuart Thyrd on board "Chestoo"
First Billfish Day 2 Frank Traviato on board "Kyrenia"
Last Billfish Day 2 Roger Kuhnel on board "Seaduca"
First Billfish Day 3 Cameron Humphries on board "The Edge"
Last Billfish Day 3 Savannah Woolcott on board "Savella" (Junior Angler)
Heaviest OGF Day 1 Caz Martin on board "On Strike" 6kg spanish mackerel
Heaviest OGF Day 2 Ian Hodge on board "Reel Impression" 7.4kg spanish mackerel
Heaviest OGF Day 3 Shane Moes om board "Reely Nauti" 8.3kg spanish mackerel