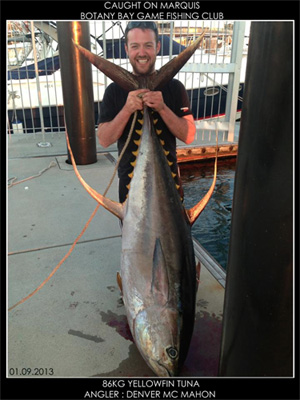 We've all heard of some pretty significant catches during the annual run of bluefin tuna off the sounthern states this year, but at the moment, Sydney in particular is also enjoying a great run of big yellowfin tuna.  I hear that there used to be plenty of these regularly down there and so its a good to see a return of the big yellows this season.
Among the significant catches was this 86kg barrel for Denver McMahon aboard Botany Bay GFC boat Marquis (with the Irish Mafia on board) off Sydney on Sunday. (Thanks Gerard for the report!)
And another that weighed 56kg on board Just Chill for angler Josh Plush last week.