Hi all – a quick composite report today.
While my post yesterday has not necessarily inspired the big fish bite here in Cairns – I did hear a big fish report with Capt. Pete Kirkby's Fisalot (yes, no 'h') releasing a black marlin he estimated about 600lbs on Linden Bank on Saturday.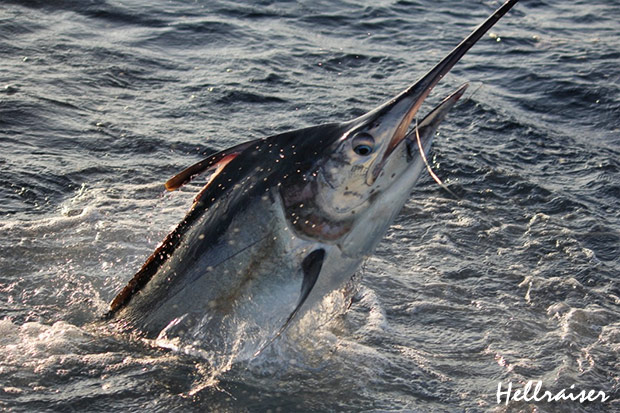 Also fishing further up the Ribbons off Cooktown, Capt. Steve Ahlers on Hellraiser reported 2 from 2 on Saturday as well for angler Sarah Jackson this 'rat' above and another around 250lbs.
Also of interest for those fishing up here this week – there has been plenty of good by-catch (in addition to the yellowfin, I hear there were plenty of spanish and wahoo etc).
Steve Williams on Stressless fished with his youngest daughter Alana on Saturday on Linden Bank as well.
With just the two on board, Steve says he was thankful they avoided a 'real' fish, but they did manage one fish for the day, a whopper wahoo of 40kg and 180cm which dwarfs Alana who yielded to the rod to Steve after a few screaming runs (and the threat of the Tiagra going into the drink!)
On the Sunshine Coast I'm hearing more reports of sailfish while Gold Coast fishers were somewhat frustrated by the blue marlin.
Steve Morely reported one of the only encounters on his trailer boat Trophy with his partner Michelle seeking her first billy, but unfortunately thwarted.  Steve said they fished the Tweed Canyons for nothing and pushed back into what is now 'Roddys Gutter' and hooked a smoker which dumped 600m in seconds and then pulled the hooks. They went straight back up and hooked a smaller fish which Michelle fought it for about 25 mins and once again the hooks pulled about 40 m from boat.
A double header of dollies soon after left Michelle even more frustrated with one converted but Michelle dropped hers. Don't worry Michelle, it just means the next trip will be a better one for sure!
There have also been early reports of blue and striped marlin around Sydney on the weekend with numerous tags recorded. Broken Bay GFC club boat Dealne recorded the first marlin of the season for the club (blue). Lots of tuna still as well (big yellows!)