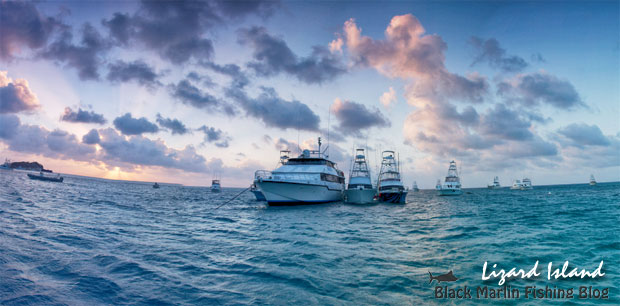 Well the tournament came down to the wire in a thriller for the teams at the top of the leader board.
An early tag for the team on board Althaldo put them on level pegging with tournament leaders Top Shot by the first sued. But in a flurry just after, it was Moana III giving them a scare. Four quick tags (120lbs, 30lbs!!!!, 250lbs and 400lbs) to put them on 8 tags. But it wasn't to be with Top Shot having a small flurry of their own with 2 more to angler Tomonori Omi keeping them one tag in front and handing the team the Champions trophy for the second year running.
While again the final day was mostly smaller fish, there were a couple of nice ones to end things off.  Sharon Poulter on Think Big released her second of the comp at 800lbs and Jim Wild on Viking II also released a nice fish at 850lbs.
Final standings:
Champion Team: Top Shot on 9 tags from Moana on 8 and Althaldo on 7
Champion Male Angler: Tomonori Omi (Top Shot) with 9 from Ralph Czabayski (Kanahoee) with 6.
Champion Female Anger: Janice Eggins (Althaldo) with 6 from Sharon Poulter (Think Big) with 5.
I will be updating with photos from the tournament as I receive them but we 'may' not have phone service for the next day or two. If that is the case, will be updating once I'm back in range :-)