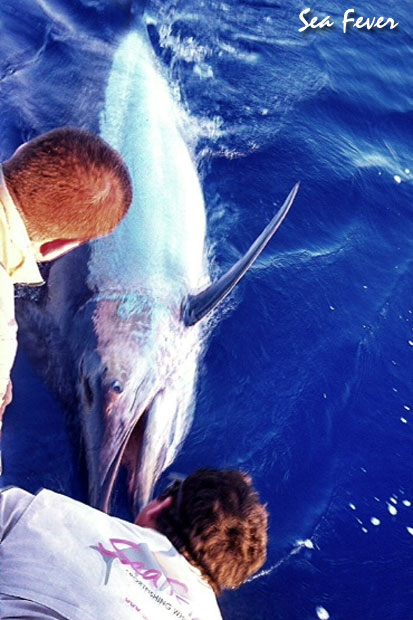 Sunday many sore heads headed back to Cooktown from Lizard Island and only a few boats were left fishing on probably the worst weather day of the season so far (almost nice to have it blow for a change ;-)  Down at the bottom off from Cairns, Capt. Bobby Jones on Iceman is hosting world-renowned Marlin University's Peter B Wright and guests, back on the reef after a few years absence, and went 2 from 4 at 400 and 150lbs.  On KEKOA we fished the relatively comfortable Hicks reef on the first day of a new trip for Mick and the boys from Shellharbour GFC with a 1 from 3 about 300lbs for Mick himself.
Catch up photos:
Photo at top from Capt. Ashely Matthews on Sea Fever of their fish he put at 850lbs released north of Myrmidon Reef (off Townsville) last week. Ashley said he measured a short length of 3.25 and it was a fatty.

This photo is one from the first day of the tournament on Capt. Craig "Sparra" Denham on Black Label for angler Dave (photo from Mike on deck – thanks Mike!). This fish didn't count for tournament points (ate two baits) but a nice one that Sparra put at 700lbs nonetheless!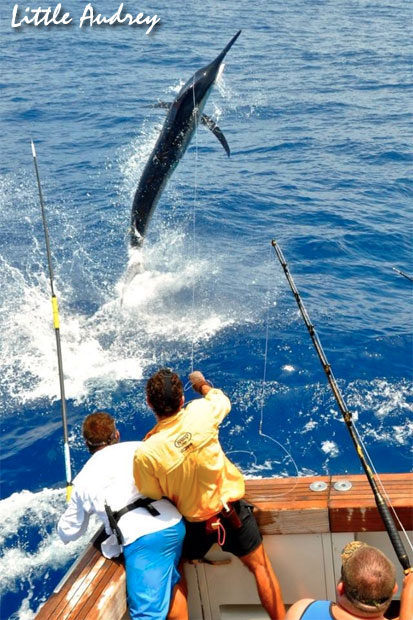 And this photo above of a sprightly fish on board Little Audrey with Capt. Daniel Carlson getting good air during the tournament as well. Expecting more pics from Little Audrey to come. Reminder to send in any photos to me via email.
Lizard Island Wrap Up (More)
While the final stats have yet to be announced, a few were interested in some more detailed results so here they are. By my count there were a total of  94 tags for 30 boats (with 84 from 26 boats in 2012 and 125 for 24 boats in 20111 for comparison purposes)
The top 10 boats were:
1. Top Shot (9)
2. Moana III (8)
3. Althaldo (7)
4. Kanahoee (6)
5. Bite Me (6)
6. Onsite (5)
7. Calypso (5)
8. Little Audrey (5)
9. Viking II (5)
10. Everwilling (4)