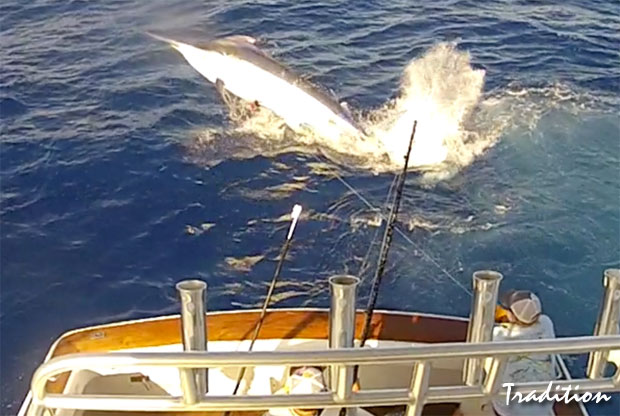 Capt. Bobby Jones' Iceman is now 12 from 12 fish in 5 days fishing. With Peter B Wright on board, Sam Muscat on deck tells me that the 12 includes 4 really nice ones at 800×2, 950 and one right up there yesterday. All the others except for two  have been in the 500-650 range. That's some crazy good fishing!
Meanwhile another catchup report and a message from Capt. Tim Dean's Calypso with Capt. Darren "Biggles" Haydon at the wheel this week. Tim says that in three days fishing they've released 6 fish 300, 400, 600, 650, 750, 950 and a whopping 999lbs!
Capt. Tim Richardson's Tradition came back with vengeance yesterday hooking up to what Tim called a "very large fish" (top) in the early afternoon which lead them out to sea. After just over an hour in the chair, Justin released his first GBR black, and a really big fish at that!
Private boats Afisionado and Too Easy got well into them on their way back to Cairns yesterday. Capt. Simon Carosi's Afishionado caught 4including two really nice ones at 900lbs a piece (!) while Capt. Russell Gauge's Too Easy released an 800lb-er and was hooked up again late in the day.
Back on deck of Hot Shot for Capt. Ian "Wobbles" Ford after his stint at Lizard Island, Dave Cassar tells me that the last 4 day trip has been a cracker.  The trip result included two in the very nice category with one at 800lbs and another right around the mark they fought for 4hours on sunset (photo above).
Capt. Brett Goetze's Reel Chase had another good day with an opposite repeat of the day before. Brett said released another two big fish (photo below) with one at 700lbs in the morning and a second at 900lbs late in the afternoon for two more first time marlin fishermen.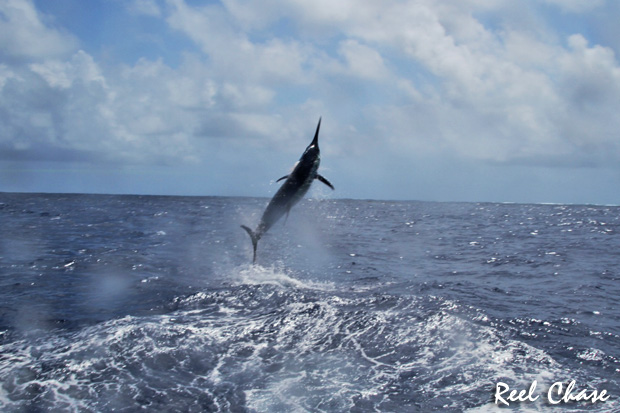 Capt. Daniel Carlson's Little Audrey also got some nice fish including 4 that he put up to 800lbs. While Capt. Jim Dalling on Billy The Kid went 3 from 7 and lost another nice one.
Fishing alone up the top, the Island boat Fascination picked up 2 from 4 shots today ranging from 200 – 400 pounds (photo below), on Number 10… Nice clean water, bait everywhere and not another boat in sight!
And there could be more – stay tuned, will update when I hear!