Its been a BIG few days on the reef with many boats having battles with big fish over the past few days. And the big fish are proving stubborn!!
When I last saw Capt. Hayden Bell on Release a few days ago, he was doing some pretty tight circles on a spot up the reef at Number 5.  Well it seems like persistence paid off with a fish straight up on the spot yesterday that he put right up there.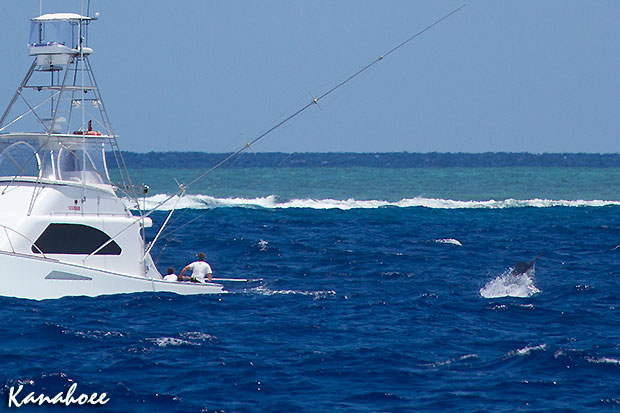 An update and catchup on Amanda Thompson's record hunt on board Kanahoee with Capt. Chris "Sharky" Miles: Wednesday they went 2 from 3 on small fish at Number 5 Ribbon Reef. On Thursday, yet another marathon battle for Amanda into the dark.  After 4 hours, they eventually broke the line on another fish big enough to take the record.  Then again yesterday, a battle with another big fish which was deemed 'not quite' big enough (estimated 800lbs) – I got a picture from afar of this fish (above) – and they also released two more at 350 and 250lbs..…all on 50lb line. I don't know how she does it day after day!
I also heard a catch up report from Capt. Corey Hard on Askari who caught the sea monster on Thursday, spending several hours battling at the end of the day as well, and adding another small fish as well. They followed up again yesterday with another two including another solid 800lb model.
Capt. Craig "Sparra" Denham steered Black Label out to the reef for the day and had the bite out of the big one not long after lines in. But it was later in the day they stayed connected to one right up there for his angler, then promptly headed back into town!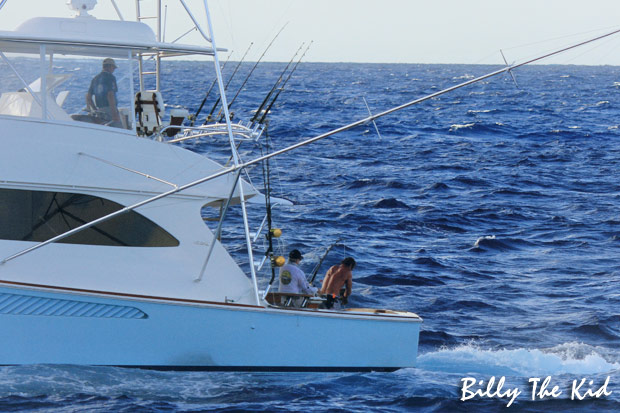 For Capt. Jim Dalling on the wheel of Billy the Kid, it was another case of another day, another big fish battle. After missing a couple of bites out of smaller fish yesterday they were backing out to sea late in the day on another fish right up there – one that wouldn't give me any jump shots to work with! (photo above of Chris on the leader).
Nearby on KEKOA, after 5 big fish encounters in 4 days of fishing, we finally broke our big fish hoodoo with a tough 800lb-er for Susan. Big thanks to Mike Tarmey for this great shot from Black Label nearby (photo below). We followed up later with another about the 400lb mark for Art on the first day of the couple's first visit to the reef to start them off well.
And last but not least, not hearing a lot from the Bank but I'm sure its firing down there as well. Capt. Jared Weir's Shaka waited until the end of the day for their fish, but it was a good one that Jared put at 900lbs!
There's plenty more happening but communication is tough so no doubt there will be more catch up reports as I hear more over the coming days.