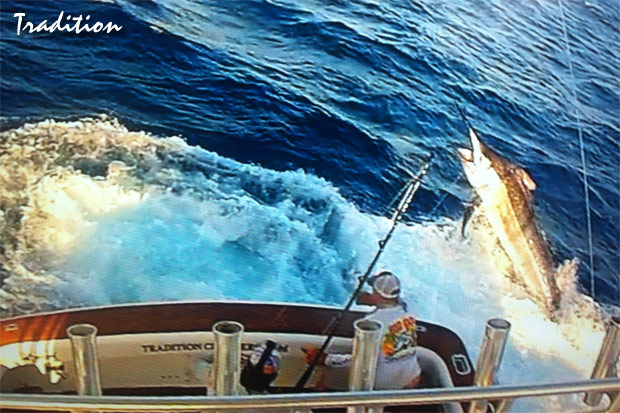 Apologies for the delayed post guys – I lost the internet just as I was uploading…
Another day another big fish on Billy The Kid. Although it almost didn't happen and I'm sure the crew thought that it would not! After seeing not much of anything all day, and lines in at 6pm, they had the bite on the big bait at 5:59 and successfully released another big fish for US Captain Eric Soderholm, in the chair for a change, that Capt. Jim put right up there at 950lbs+.
I also heard another big fish report from Keith "Stretch" Heaney who took his son Marlin out for his first day heavy tackle fishing on Chamois Free that he put at over the mark. Nice first fish there Marlin!
Back at 'the spot' at the bottom Ribbons, the bite seemed to die away yesterday with not too much happening there. I did hear of one nice fish at 900lbs released on Capt. Ian "Wobbles" Ford's Hot Shot, but not much else.
Wandering north, I heard a bit of a lunchtime bite happening on big fish for three boats fishing together in the Middle Ribbons on Capt. Tim Richardson's Tradition, Capt. Hayden Bell's Release and Capt. Ross Finlayson's Top Shot. They all hooked up to 800lb model fish within 5 minutes of each other, all for successful releases. But the day didn't end there for Capt. Tim's team on Tradition. Overall he saw 9 fish, raised 6 and had 4 bites finishing the day with three big fish including the 800 as well as a 700 and 750lb, 2 caught on lures on the shotgun! Tim says they had some great bites and the bigger fish went off down sea ripping off 300 yards of line like it was nothing. A pretty awesome day's fishing! (Photo top and below.)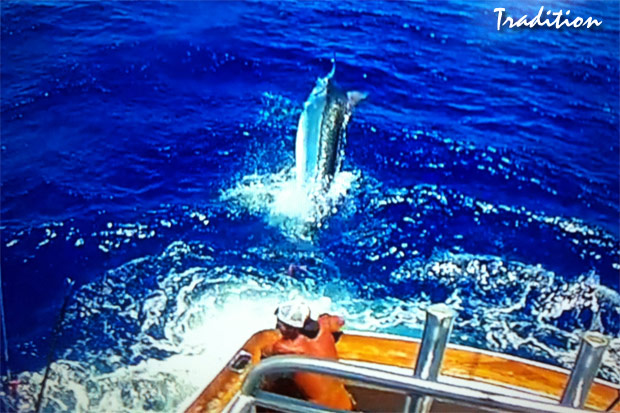 A bit further down the line, Capt. Brett Goetze on Reel Chase has been working his spot which produced a 400lb-er for him on Friday. Yesterday he followed up with 3 from 4 with a 400, 450 and 750lb-er for his clients from the US. I had an email from his angler Brett prior to his trip – so I'm glad to hear you're off to a good start there Brett!
Further down the line again, on KEKOA we released another two fish, one about 550lbs for Art, and got the late bite again for Susan raising a few more along the way.
Also nearby, we saw Capt. Brett Thomas' Gorilla backing out to sea on a nice fish they put at 600lbs. Catch up report from Brett who has Matt and Peter from Cowra fishing on board, neither of whom had spent any time on the ocean before, and one of which had never been in a plane! They've had a great trip so far with 4 fish in 3 days of fishing. In addition to yesterday's 600lb-er, they also released a 750lb-er the day before as well as a couple of smaller fish. Brett says their other angler Brads has caught nice ones with them in previous seasons, but Matt and Pete were blown away just bait fishing! They have only ever caught Yellowbelly and Carp before in the dams and estuaries
Back down at the Bank again, Capt. Chris "Sharky" Miles on Kanahoee has one last day on the record hunt for Amanda. She accounted for another good fish at 600lbs on the 50lb line again yesterday, this one was a short fight at 10mins – must have been nice to have a short fight for a change!
I also heard that Shaka released a smaller fish and Capt. Ashley Wallis' Kalira also accounted for two fish one of which was 600lbs as well.
Catchup photo: This is an awesome shot of one of Capt. Simon Carosi on Afishionado's 900lb-ers from Thursday taken from nearby on Shaka by owner John Hendry – another great shot John of an awesome fish! Simon says that he thinks that is the first fish on their final day on Thursday. They released a total of 6 fish from 8 in two days fishing at 150, 300, 300, 850 (sat tagged), 900 and 900lbs!