Just a few reports from yesterday, but they are all big! The year's run of big fish is not over yet!
Another update from Keith "Stretch" Heaney on the Chamois Free who tells me they have notched up their third grander of the season this week – and Stretch tells me that is now makes the count three granders, one 800, one 700 and two 250lb fish in just five days of fishing!!
On the reef yesterday, Capt. Tim Dean celebrated his birthday (again! ;-). And I hear that they even made him come down from his perch and demonstrate his wiring prowess on one of Calypso's TWO 900lb fish they released yesterday. The Wildcatter boys from Texas must be having a ball! A 900lber each for DA Hughes and Zac Henderson in one day.
Also having a ball, Capt. Corey Hard on Askari's return guest Steve Keinath (Dreamin' On) who released another three fish yesterday at 200, 600 and 850lbs. The team are just over a third way into a 20 day trip – so plenty more fish to come I'm sure.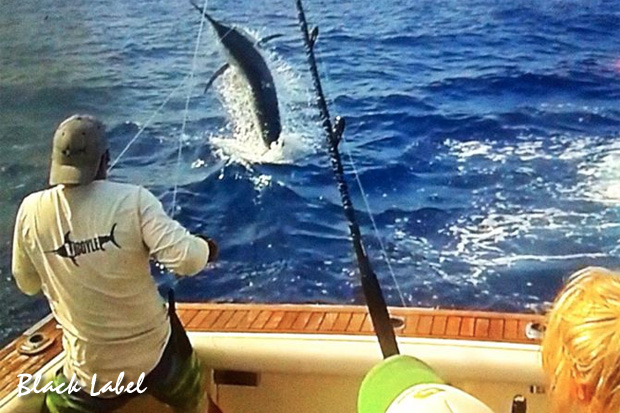 More return guests to the reef, Capt. Craig "Sparra" Denham on Black Label is hosting Jay and Candace Meyer with the mothership Aroona.  Jay and Candace also saw plenty of action yesterday as Candace is attempting the 50lb record. She successfully released a 750lb-er on 50 yesterday (photo again from Mike Tarmey above) and had a go at another bigger fish that may have been record worthy.
Capt. Tim Richardson put angler Helmut onto his fish of a lifetime on Tradition yesterday as well. Capt. Tim also put this fish at 900lbs (photo below). Well done Helmut!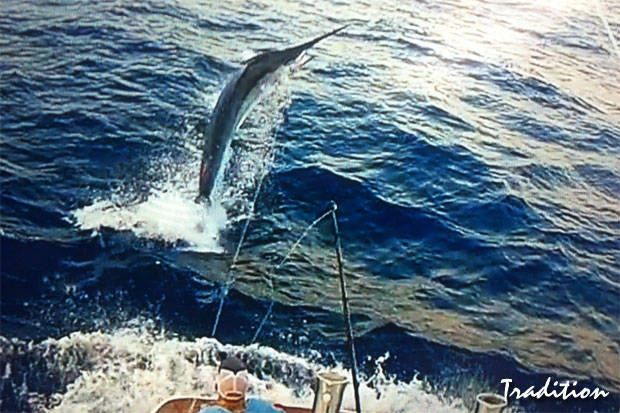 And back on the reef again as well, the Sunny Coast boys on Kamikaze left Cairns overnight notching up a sailfish while bait fishing, and then a 250lb-er to kick off their heavy tackle account in the afternoon.
An update from our trailer boat fisherman David Crocos, who we last heard of hooked up to a beauty in the middle on Wednesday. David has been in touch and tells me it was an amazing experience which he's dreamed about for a long time and he was happy that there was someone there to witness the fish and give him an estimate of size.  After a long fight and unable to change her direction, he decided to take a few wraps and end it. David was fighting on his pride and joy, a TLD 50.
I mentioned yesterday that Al McGlashan had been out with Capt. Daniel McCarthy on Moana and found the tuna aggregation – well here is one of his fantastic pics to show you just how much of an 'aggregation' it is! Beautiful shot Al!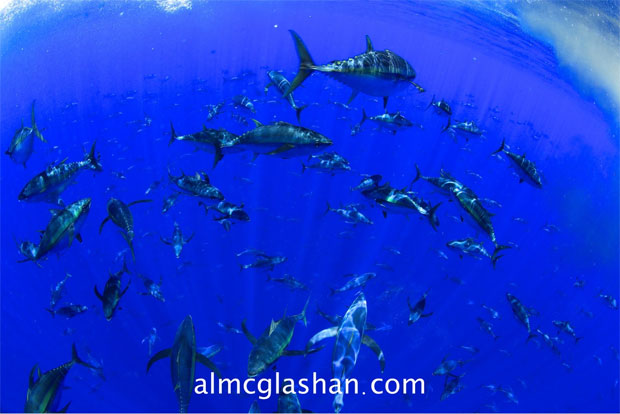 And lastly, I did find some time yesterday on our day off in town to edit a clip of one of our fish. Susan's 900lb-er on KEKOA on Wednesday. Hopefully the first of many clips to come from the 2013 season (hint hint guys!) [Sorry it doesn't play on mobile devices because of the music.]