And so Linden Stadium begins with fishing excellent for one, good for others and very quiet for the rest of the fleet fishing mostly on the Bank and Opal Ridge yesterday.
Catch up report from Bevan on board Capt. Chris "Sharky" Miles' Kanahoee who is having another fantastic run. Bevan says they are now three days down on this trip and started off on fire on Friday with 3 from 6 at 950lbs, 300lbs and 200lbs. And have stayed on fire since with 1 from 2 releasing a whipped up 850lb-er on Saturday and then another amazing 5 from 6 yesterday, with yet another big fish that Sharky put at 900lbs as well as a 600lb-er and a few fat rats. They finish up their four day trip today with 9 already on the board! First class fishing!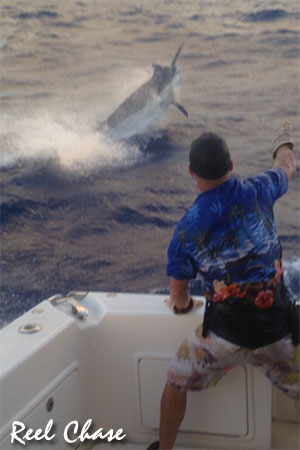 Capt. Brett Goetze on Reel Chase also had another solid day finishing up 2 from 4 and starting with a 250lb-er from a double header. Not too long after they were fighting a monster fish but pulled the hooks 20 metres from the boat. Then, just before lines in a 6pm they caught another nice one about 800lbs on what I'm told was Hawaiian Day on the boat (hence the shirt – photo left :-))
Capt. Brett Alty on Mistress, with Barry back on board, also had a good day going 3 from 5.
Brett sent me this photo below of one of the fish which makes it look a fair bit calmer than where we were!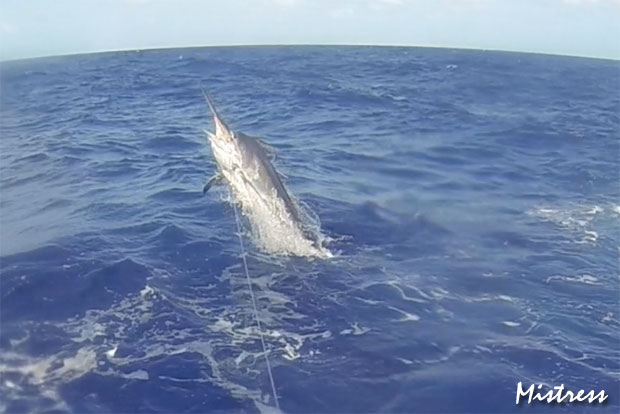 Capt. Tim Dean on Calypso had another great start to his trip heading out and up from Cairns releasing two at 650 and 100lbs for lady angler Wendy Thackeray. Capt. Craig "Sparra" Denham and the Meyers on board Black Label continue the record hunt today after releasing a smaller fish yesterday and Capt. Simon Carosi on Afishionado caught two to 450lbs as well.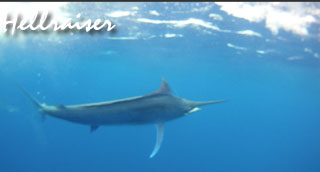 Also on the Bank, the Sunny Coast boys on Kamikaze got a fish about 400lbs later in the day after jumping one off earlier.
Down at Jenny Louise, Capt. Steve Ahlers on Hellraiser reports this one (left) at 350lbs for Western Australian angler Rodney (Mambo).
Weipa – Sailfish Galore
Ben "Notso" Bright reports from Weipa that 7 club boats fished yesterday for roughly 26 fish released. Darren Lee reports seeing a pod of fish feeding on the surface, and upon looking down, seeing a 'carpet of sails'. With Andrew Wedding, Darren ended up with 7 from 18 or so bites – including a baby black marlin. Darryl French's Wine Down went 14-12-8, 7 sails and 1 baby black. Gaven Roberts had the family out on Striper and ended up with 2 sails and 2 baby blacks.
Newly relocated to Weipa, Townsville's Chris "Davo" Davidson who is used to 'good' fishing at Cape Bowling Green, and who joined the guys on Wine Down, says that they saw over 40 sailfish yesterday, and he's been blown away by the fishing so far.
Coffs Harbour
Glen Booth reports there has been some reasonable blue marlin action down at Coffs Harbour over the past week, when the weather permits. Solitary Islands Game Fishing Club boats have been in the thick of it lately, with Dean Szabo on Alcatraz tagging a 130 kilo blue in the club's fortnightly comp. Magnum came across a mess of big dollies hiding under a dead squid, tagging ten and keeping one of 18.5kg on 15 to Nic Edwards, while Wicked Weasel has an un-flattering 5-2-0 from three trips.
Last Friday Foreign Exchange found a spearfish for Lee Parkes, while George Blackwell nailed a real nice blue of approximately 200 kilos. Matador also had a few bites, with local skipper Rob Lang taking a turn on the rod for a change (something he says he doesn't want to repeat any time soon!), and tagged another nice fish of 220+kilos.
Sunshine Coast
Report from Lachlan Tuckwell who tells me that the boys on Ruff N Tuff went heavy tackle fishing off the coast last Friday and found an estimated 350lb blue for angler Matt, his first blue. Yesterday Tim Bidey and Lachlan had a go themselves on the heavy tackle and in a little 5.2 centre console went 2-2-1. Unfortunately the fish was tail wrapped and died so the call was made to weigh it. It came in at 300lbs and was also a 1st fish for Tim.
Also light tackle fishing yesterday the boys on Ymer went 3-3-3 with a double on sails to Robert Smith and Adrian Traynor and black later on to Matt Withers.