A few more big fish on Linden Bank yesterday – where the entire fleet are now fishing in close proximity to – reported amongst the fleet.
Capt. Ashley Wallis' Kalira and Capt. Ian "Wobbles" Ford's Hot Shot are fishing a group from Cashman Equipment in the USA off the mothership Mustique.  Yesterday Capt. Ash reported a 500lb-er earlier in the day, followed up by a really nice one that he put at 1100lbs to end the day on a very big high – photo below of the fish in the fading light.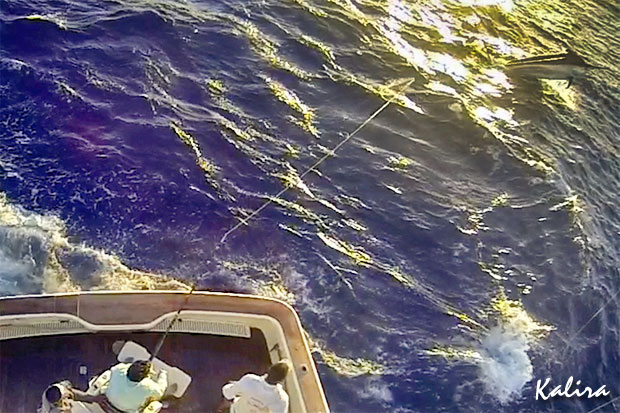 Meanwhile on Hot Shot, Wobbles reported 2 from 4 at 400lbs for the other part of the group.
Also another big one for Capt. Daniel McCarthy's Moana who hooked up among the fleet but was slowly taken out to sea by what he called the 'sea monster' for IGFA Trustee Ichiro, 2.5 hours later (pic below)!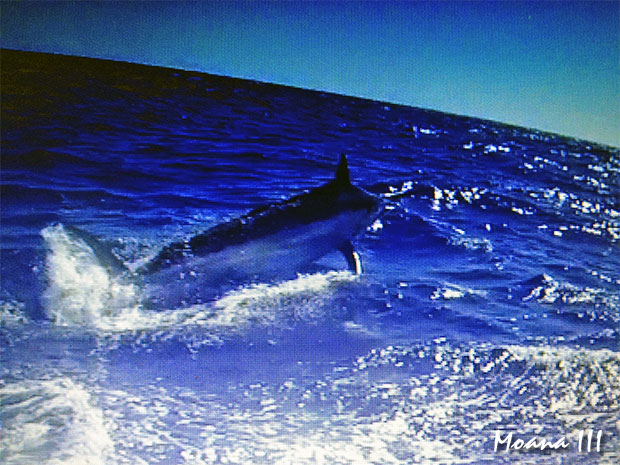 Capt. Tim Dean's Calypso started out the day with a couple of smaller fish (100 and 300) in the morning, but followed up with another nice one late in the day that he put at 950lbs for his lady angler Wendy who has been getting a workout!
Capt. Brett Goetze on Reel Chase went 2 from 4 fishing a bit further south at Onyx and Spur. The first fish was a 650lb-er which the freshly rigged dolphin fish bait and later in the day, the clients put deckie Jake Wyatt in the chair for his first marlin as angler at 250lbs!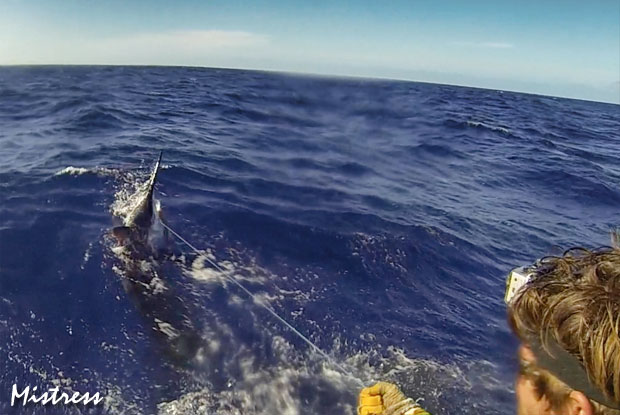 And Capt. Brett Alty on Mistress also converted 2 from 2 at 300lb and 500lb – photo above.
More practice on the little fish for the big one coming, on KEKOA, Capt. Luke put Brett onto another smaller fish for his second release after spending 20 minutes fighting a larger one earlier in the day, only for the hooks to pull just outside of leader range.  Capt. Jared Weir's Shaka also released a smaller fish and missed another in the 600lb range while Capt. Steve Ahlers Hellraiser also went 1 from 2 at a pretty 150lbs for Cairns lady angler Leah Hancock (photo bottom).