When you're hot you're hot!
After releasing a big fish for his Cashman USA anglers the day before, Capt. Ashley Wallis' Kalira had much the same day yesterday as the rest of the fleet at Linden Bank and Opal Ridge…trolling, waiting…! And then it all changed with a double header late in the day of two more big fish successfully released that Ashley put at 700 and 900! On fire!
Capt. Adam Jordan on Iona II also had another of the pick of the days with 2 fish yesterday at 250lbs and another nice one at 800lbs.
Capt. Brent James's Mauna Kea, wandering down from the Ribbons and having released two small ones at Escape the day before, also released a fish about 600lbs along the ridge.
While Capt. Tim Richardson on Tradition put his US Lady Angler Laura onto a fish that he put at 450lbs. Laura is fishing with Tim and enjoying staying on the aptly name mothership the Laura J.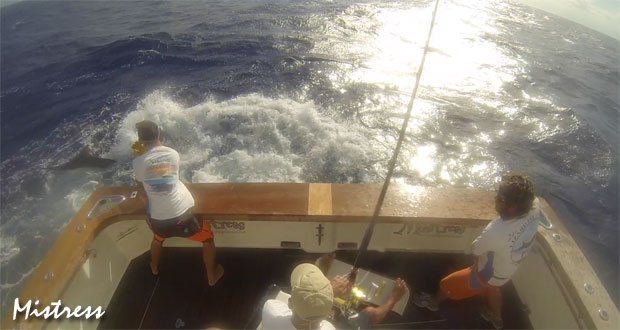 Capt. Brett Alty's Mistress added another one for Barry (photo) as well. As did Capt. Steve Ahlers on Hellraiser with another fish about the 150lb mark for Leah again.
And that was all!
We have some good blowy weather but northern current. Water is looking better.
Fraser Little Blacks
For those of you interested in the run of the little black marlin (and bigger black marlin) down the coast, Black and Blue's Rob Wood reports that Fraser is fishing great. Rob fished on Sunday for three heavy tackle bites on 300+lb blacks, and twenty odd bites on small blacks and 20 to 40kg sails. Rob says that two other boast fished the light tackle and obviously smashed them as they were driving back wards continuously. Looking great for the Hervey Bay GFC tournament in 10 days.