Cairns Black Marlin Season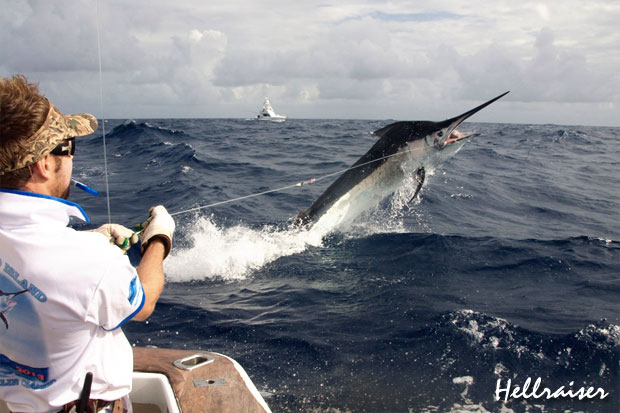 Capt. Steve Ahlers on Hellraiser finished up his latest trip yesterday with another big fish that he put at 800lbs (above).  Steve also sent me some photos of their last few days including one from his big fish from on Wednesday that he put at well over the mark (below and bottom). Steve says that they were very lucky to have 3 good anglers on board Greg and David  Gilmore and Ricky Jerome. Dave did a tough 1 hour and 10 minutes in the chair on sunset on the big one.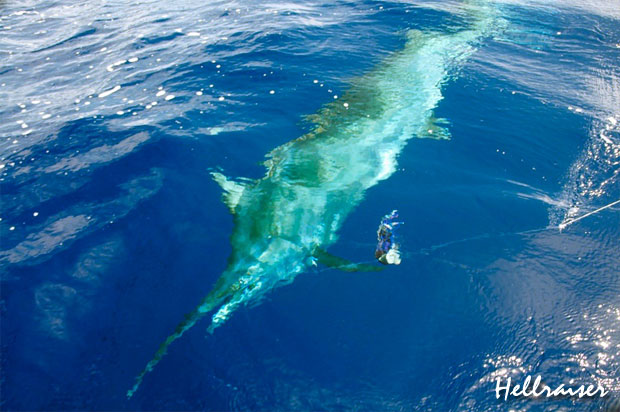 I snapped this shot below of Dan Bergamo's Wild Turkey on a fish earlier in the day yesterday. Dan also reported missing the big out of a bite fish later in the afternoon before heading in as well.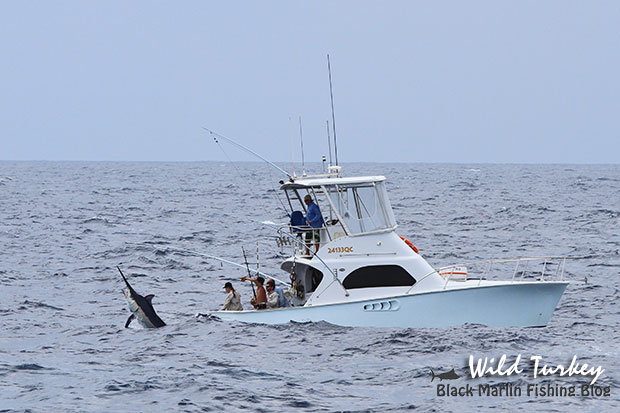 Capt. Bobby Jones on Iceman put his guests on the board with a bite quite literally just before lines in – and a nice one too that he put at 800. Meanwhile, Capt. Tim Dean's Calypso got a 400lb-er early in the day and Capt Brett Goetze's Reel Chase released one at 300lbs. And Capt. Jared Weir's Shaka got a sailfish.
SEQ Blues, Blacks and Stripes
Off the Gold Coast, Lucky Strike's Capt. Ross McCubbin had a great day yesterday with a 4-3-3 of two blue marlin and one black marlin. Ross says that one of the blues and the black were part of a blue/black double header – his first ever!
I also heard that a couple of other Gold Coast boats found the blues as well as a stripe.
Report from Lachlan Tuckwell on the Sunshine Coast with a 3-3-1 on blues on Catapult at 200lb yesterday as well as raising again another fish that wouldn't play ball. Lachlan says that the team on Ruff and Tuff  also released one about 300lb for for owner Matt Collinge.  Rob "Smithy" Smith also tells me that they also brought a mahi mahi back to scale for a vacant Qld record on 24kg but it was 700grams short for James Robinson!
Boding well for this weekend's Mooloolaba Billfish Bash.
Smithy also says that the Sunshine Coast GFC did quite well in the GFAA awards which were announced last weekend and posted mid week winning the John O'Brien Trophy with 211,428 points for 542 fish.  Also SCGFC anglers (Jeff Oates & Dan Brooks) and boat (Kamikaze) were in the mix winning trophies.
Below is Paddy's video from the Nov 23 report and his two from three day.  Smithy says that pretty much any SCGFC boat that has gone heavy tackle the last three weeks or so had got a fish.
Blue Marlin Sunshine Coast from Paddy Dimond on Vimeo.
More on Black Marlin Fin Samples
Download Sam William's November Black Marlin Newsletter which also includes some interesting information from the recent International Billfish Symposium which presented evidence of another black marlin spawning location in South China Sea and the southwestern Taiwan region (between March and April)! Until now black marlin were assumed to be a single global stock with spawning only confirmed to occur off Australia's Ribbon Reef group.
Below also is a great clip put together by Ben "Notso" Bright up in Weipa of how to take a fin clip unassisted.
Hellraiser's blue marlin from Tuesday.