More action off Cairns at Linden Bank yesterday saw the remaining fleet fishing bunched up and catching several. Capt. Russell Caphorn's Kaizen kicked it off releasing a nice one amongst the fleet – eventually releasing another smaller fish as well for the day – while Capt. Corey Hard's Askari also released a small one.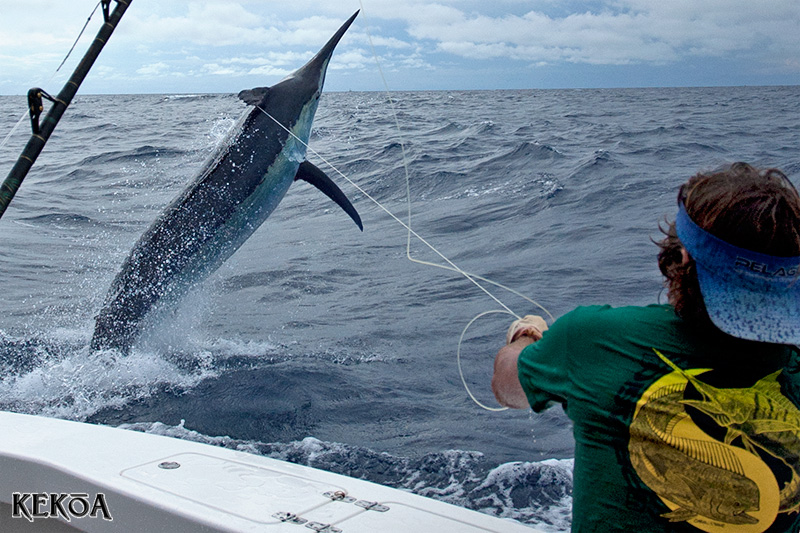 On KEKOA, Capt. Luke Fallon put us on a small one straight up for Tenancious' Capt. Danny Ford who is on a return visit to the reef with owner Kasey Swan.  Then we had the big fish bite after venturing a little bit away. Coming up with 2 other smaller fish on the baits all lit up, Kasey fought it for just on an hour before she was released with both captains putting her at 950+lbs! (Photo above.)
Capt. Steve Ahlers on Hellraiser came into the anchorage late last night with the big fish report as well. After spending the night out at Bougainville and having some more big blue marlin  action that unfortunately wouldn't stick (but releasing a smaller blue about 250lbs), he returned to the edge yesterday with 1 from 3 with a fish that he put at well over a 1000lbs!
Capt. Kim Andersen on Bounty Hunter had plenty of bites but no conversions before returning to port for changeover while Capt. Tim Dean on Calypso put the Game & Leisure team onto two small ones. And Capt. Jared Weir on Shaka stuck it out away from the fleet to the north also releasing two at 250 and 350lbs.