With another big blue marlin recorded on the Gold Coast yesterday, we edge closer to the magic 1000lb mark. With the South East Queensland season really kicking into gear and a full summer of fishing ahead, its a very distinct possibility that the first official 1000lb blue marlin in Australia could be weighed in Queensland!
Vince Wregg and sons Leon and Jeffrey spend a lot of time on the water on board their boat Barco and have notched up close to one hundred blue marlin releases over the past five years. Fishing yesterday out wide, Vince put a big fish novice Joel Purcell from Coffs Harbour onto this fish-of-a-lifetime.  In a super effort he spent over 4 hours in the chair ,and while they originally had no intention to weigh the fish, unfortunately it died during the fight and Leon assisted in planing it up to the surface where it was transferred to Lucky Strike (not being able to fit in the door of Barco!) and brought to shore – eventually weighing in at 892lbs (405kg).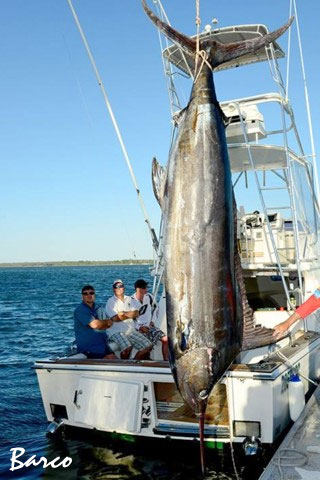 Nearby on Lucky Strike, Ross put his angler Paul onto his first blue about 300lbs with a 3-1-1. And on the other coast, a Saturday report from Conor Lynch who was taking a boat north from the Sunshine Coast to Mackay.  They managed 3 heavy tackle black marlin between Fraser and Lady Elliott. Conor says that they also had a further two bites including one out of a blue marlin nice and early at 6am!
The Cairns season is in definite countdown mode as most boats wrapped up the season with the Ladies Ribbons tournament on Saturday. While the ladies could have enjoyed some better bill-fishing (by my count there were 5 marlin and 2 sailfish tagged from among the 54 boats competing), they certainly got amongst the other gamefish. I'll seek out an official tournament report.
One of the highlights was an estimated 300lb black marlin tagged on 10kg line in the last few minutes of fishing on board Capt. Steve Ahlers Hellraiser – great effort!
Just the day before Capt. Russell Caphorn on Kaizen had wrapped up his last trip with the boys from Mooloolaba GFC on board with a couple of big fish, giving the ladies some great incentive.  Following up from a fish on Thursday that Russell put at 1000lbs for Mick Wrack, Russell reported another big fish on Friday for Pat Skehan that he put at 950lbs.  Great way to wrap up the season Russ!
And heading north (and eventually around) Capt. Craig "Sparra" Denham at the wheel of Black Label on her way home to Darwin released one about 200lbs at Number 4 Ribbon Reef.