South East Queensland
Another SEQ catch up report from Capt. Brent James on Mauna Kea. Brent tells me they trolled teasers around on Monday and converted a blue and a stripe marlin .
Brent put the blue at about 400lbs (pic).
Exmouth Heavy Tackle Tourney Report
The Exmouth GFC Network Power Heavy Tackle Tournament was held last week December 10-14.  Candice tells me that there were a lot less fish successfully tagged than were raised and hooked (basically the same scenario being experienced in SEQ at the moment as well) but it was still a great result with 47 marlin tagged over the three days.
The final stats were: 15 boats and 58 anglers, raised 143, hooked 83 and tagged 47 marlin (blue and black marlin). One black marlin was also weighed by the team on Tails Up and took out the "Heaviest Fish Weighed" category.  Caught by Luke Groen on a 37kg line, the fish weighed in at 296.9kg and is a potential state record.
Pelagic Hooker was the overall winner with the most tags for the event with 7 tags.
Some great fishing in the west – congratulations to all involved!
Solitary Island GFC (Coffs Harbout)
Glen reports that fishing is less than electric there. Nine Solitary Islands GFC boats fished Saturday for one blue lost to a broken line (Wicked Weasel), and another, possibly a black, that fell off close to the side of Better Than Vegas. The water is green out to 100 fathoms, then there's a band of black water, and beyond that it blues up and hits 24.5 degrees. Boats that fished Sunday found little to get excited about either. Unfortunately it's been like this for a while now. A few early season spotty macks and the odd Spanish can be found in the green stuff though.
—
And a few catchups from the BMFB sponsors too (sorry no newsletter this month!)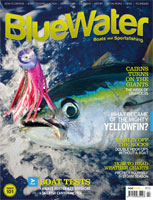 The latest issue of BlueWater Magazine is on the newstands from today.  This issue includes another feature from moi (Cairns Turns it on for a week of giants) as well as landbased marlin at Jervis Bay and summer on the NSW south coast and much much more.
Get your copy today!


Also a message from Wellsys Tackle for your summer season of billfishing ahead. Rupp has developed an innovative new locking pulley system that locks your halyard lines, keeping your outrigger release clips right where you want them.  They are of robust design and accept a wide array of halyard line material and thicknesses. They are stocked in single and double shock cords and can be ordered here or or call Wellsys Tackle on 1300 304 218 during business hours.
Wellsys Tackle 2014 catalogue is also now available both online and in print. Click here to view the online catalogue (in flip book format) or order your print catalogue here.