The SEQ reports just keep coming!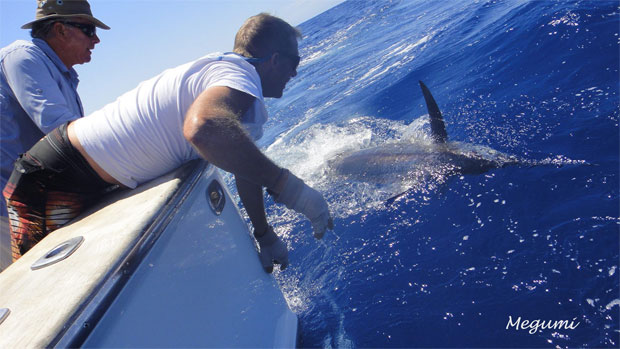 Capt. Ken Brown's Megumi fished the shelf off Cape Moreton again yesterday. While the bite had shut down a bit and they had 2 shots from blues and caught 1 about 28olb for Megumi owner Laurie Smith and jumped another off about the same size (photo above).  They also had 3 shots from blacks and caught 1 about 120lb (photo below).  Congrats to Laurie!
Following on from what we said yesterday, Ken reports that in all the years he's fished the shelf he's never seen so many black marlin out there!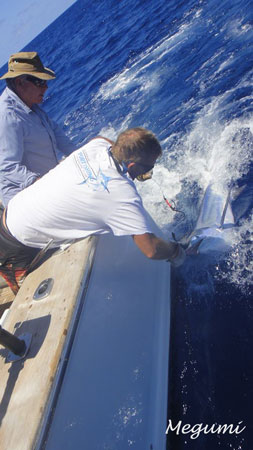 Yesterday's report also opened the door for a lot more catch up marlin reports to come in and its great to hear of so many getting out and amongst them.
Mooloolaba GFC boats on the weekend did well with the conversions with Steve Dahl on Bring It On going 3-2-2 on blues. The Douglass family's Luna with Nathan and Wayne on board went 2-1-1 with a striped marlin on the heavy tackle grounds. While Jamie Brehrens Reel Hunter went 2-1-1 with a little black on 6kg in closer. Thanks Nathan for the info!
I also heard from Ryan Zell who tells me that he put his wife Kristyn onto her first black marlin on 8kg weighing about 50kg inside the 36s east of Couran Cove on Saturday afternoon. It was the the first fish for his boat Dragnfish  on a Pakula Lumo (video). Well done Kristyn!
Port Stephens regular Andy Bagnal has been spending a bit of time on the water off the Gold Coast and Hervey Bay with Vision Sportfishing's Ben Currell. Andy says while HB was shut down earlier in the week with NWs, they raised 3 blacks on the heavy tackle grounds off the Gold Coast on Saturday, setting the hooks on two with both falling off after a short fight (1 was about 40kg the other 100kg+.)
Ben fished again yesterday, this time without Andy (and it turns out that Andy was the judas – I'm so going to get into trouble for that ;-)) with Ben reporting one blue about 250lbs successfully released.
Another catchup from GCGFC's Bruce Keown who says in addition to the club boats already reported yesterday, he heard that David Trask's Big Business went 11-6-4 and other boats were raising up to 6 fish a piece!
Catch up photos from Smithy's Fishing Charters Rob Smith of his stripe (below) and black (bottom) from last week and yesterday's report. Here's hoping we hear of a SEQ slam in one day soon!