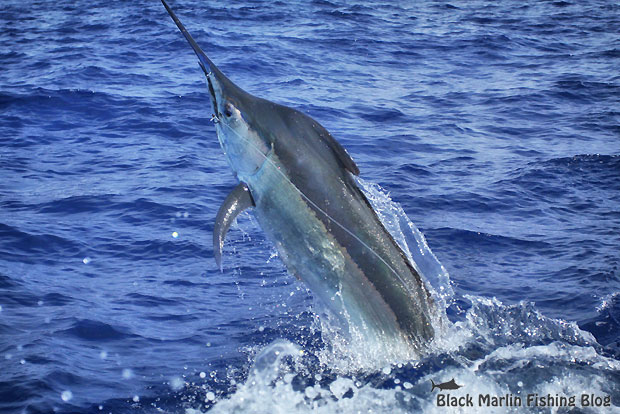 A few fish were reported out wide off Cairns late last week.
Capt. Haydon Bell on Release is fresh back from three days out to the Mount and back with Tim, Brad and Brian Dobbins on board. They had a ball among the yellowfin and big eye tuna (to 100lb) including some tuna on the fly and the usual dolphin fish and the like. But they also found some more big blue marlin releasing one that Hayden put at over 750lbs that he said was a real hot fish giving them plenty of action and dropped another even bigger that he put in the 900lb range and with bites out of several smaller blues as well. Capt. Dan McCarthy on Moana III was out on a day trip and caught a 500lb black and missed a couple of bites out of blue marlin as well. Capt. Capt. Brett Goetze's Reel Chase also hit Linden Bank on Friday for a small black and another sail.
I've also heard tidbits of billfish reports from NSW (report anyone?) and a report front from the Exmouth Heavy Tackle tournament to come as well, but outside of those, it most definitely sounds like South East Queensland was the place to be on the weekend.
Capt. Ken Brown's Megumi had a chance at a weekend slam with bites out of blues, blacks and stripes yesterday. Fishing of Cape Moreton they went 2 from 6 – made up of 2 from 3 on blue marlin (to two more first time blue marlin anglers), 0 from 1 on stiles and 0 from 3 on black marlin in the 100lb range.  I know that Capt. Rob "Smithy" Smith on Smithy's Charters had a combined slam last week off Cape Moreton from Mooloolaba as well, with a black on Friday and an estimated 55kg stripe and a blue earlier in week.
John McConkey tells me he switched Myrmidon Reef for SEQ, joining Dino Rosa and crew on board Manic yesterday off Moreton as well – raising a bunch of fish. But unfortujnately 'rubber hook syndrome' claimed most with the final result 1 from 11 (!!) made up of 7 blue marlin and 4 black marlin, coming tight on each one but only putting the tag in one black marlin around 250bls.  John says two of the blues were really nice fish and gave Dino a good workout on the 80lb standup before coming 'unstuck'. Big congratulations and commiserations!!
On the Gold Coast, also many reporting trouble with the conversions (I think Matt Stehmann was reporting that he's dropped the last 11 fish now hey Matt!;-)) but the team on Jugs definitely had the best of the weekend. On Saturday they went 5-4-3 tagging 3 little blacks on the heavy tackled grounds (plenty of reports of small to medium size blacks on the 'blue' marlin grounds reported which is very interesting). Matt says that they also missed a big blue. On Sunday they followed up with a 5-3-3 on 2 black marlin and 1 blue marlin. That's a great weekend result with a total of 5 blacks and a blue!
And Capt. Brett Alty's Mistress also go in on the action with a blue marlin on Saturday and a black marlin on Sunday for anglers Cameron and Shane respectively! Meanwhile also little blacks showing in closer with the Keoawn/Malaquin/Whitehead team on Lit Up releasing an estimated 30kg black in 60m of green water NE of the Pin on Saturday as well.