Some recent as well as pre-Christmas catchup reports from along the east coast. Sounds like the summer billfish season is just hotting up!
Gold Coast and SEQ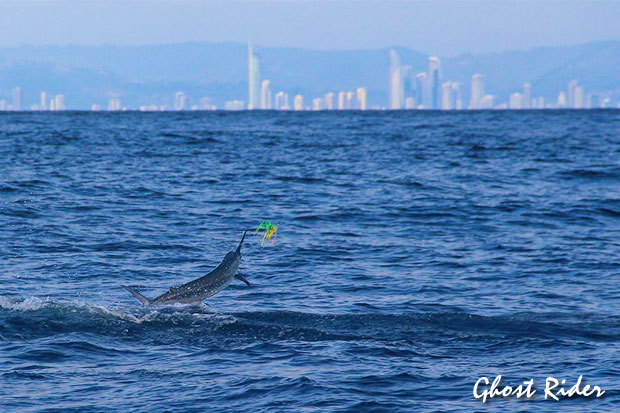 The Gold Coast is still one of the best spots to enjoy the summer fishing at the moment and with the smaller blacks showing up inshore as well – how good is it when you're catching them this close to the highrises onshore?!
Photo above and below from Kelly Wills who was fishing on board Ghost Rider on Saturday with skipp Keith Berezwick and crew of Al Johnson and Bruce and Kelly Wills.  They went 2-2-2 on the small blacks just out from the seaway with the first to Dad Bruce, and the second to Kelly, both before 7:30am! Great shots too!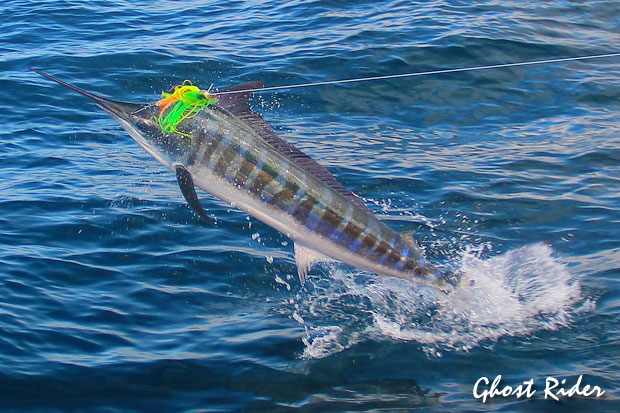 Meanwhile, the blue marlin are still being blue marlin out wide with plenty of encounters but fewer hookups.  On the Saturday before Christmas Vince on Barco (remember the 892lber earlier in December) reported a black and a blue out wide (Dec 21) – Vince says it was a big improvement on their previous Saturday on the water which was a 5-2-0!  Also on Dec 21 Serka Alan reports a blue marlin to Alan Selcuk in the 200-250lb range on 24kg stand up on board Reel Addiction off Point Lookout – photo below.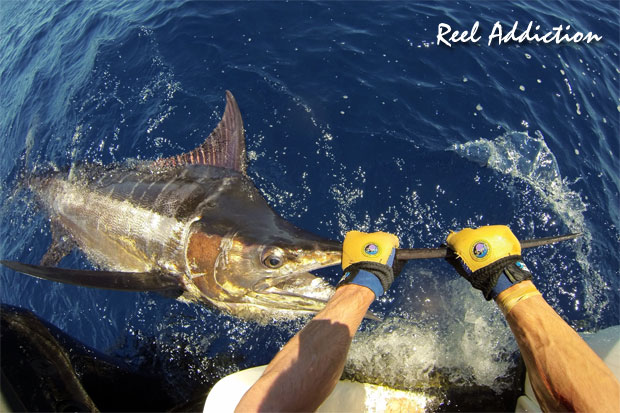 After Christmas fishing on Saturday as well (Dec 28) Capt. Ross McCubbin on Lucky Strike released an estimated 200kg blue (440lb) on 24kg tackle and saw two more including a big one.  They also missed a stripe in closer in 100 metres in the morning.
More little blacks: Ryan Zell reports tagging a 40+kg black on Dragnfish off North Straddie on lure on 8kg. Ryan says that most of the fish caught there were also caught before 10am.
Sydney / Broken Bay
Plenty of action off Sydney and surrounds over the holiday period as well with the Findlay boys' Murrifin/Murriweeni making yet another great start to their season with all three species of marlin in December!
Starting the tally with 2 stripes on Murrifin (as reported) on Dec 2nd, and missing a stripe and a blue on the same day, fast forward to the 18th when they raised a little black also on Murrifin. On Christmas Eve they converted their first black on the season on the Murriweeni while out kingy fishing in 18 metres of water (and less than 5 miles in a straight line from home!) with Rod site casting a live slimy to the fish as it tailed past. Then after Christmas slam was completed with a 130kg blue on Murrifin again on Dec 27.  Rod says that there has been a few spearfish around with 3 that he's heard of in the last week. Another Broken Bay Club boat Dealne got pack attacked by spear fish but only landed the one as well as as tagging a striped marlin fishing yesterday.
Another spearfish this week went to angler Tiffany Boland on boyfriend Colin McDonald's Squid Marks which could have been a Aus Record on the 15kg line. (Great catch Tiffany!)  Colin says that there is some great looking water in close where a few more little blacks have been caught as well, but then its green all the way out from about 50 fathoms out to the shelf. A couple of miles over the shelf the water turns blue and 24 degrees but the current is still raging south.  He said they marked a lot of bait and a couple of fish a little NE of Sydney and worked the area for a while hooking up there.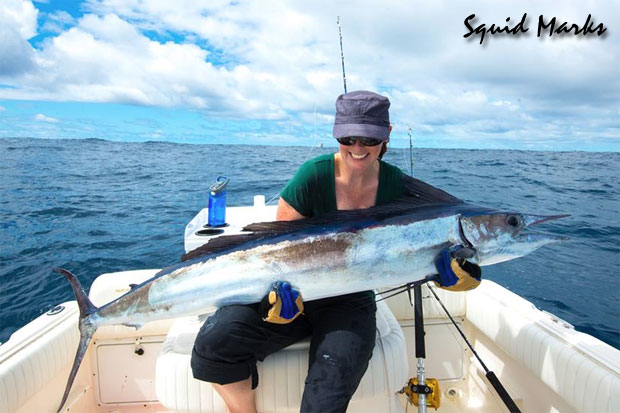 Ulladulla
George Lirantzis reports that the fishing off Ulladulla is just starting to hotten up as well. Last week Club boat Inxs went out on their Christmas party and released a blue they estimated at around 150kg. They were trolling lures when both outriggers were taken by rat yellowfin and out of nowhere the blue hit one without connecting but came back for seconds.
Side Effect ventured out on Friday and tagged a black marlin estimated to be around 130kg, about 3km north of the Canyon while Mayhem traveled a little further north and was rewarded with an afternoon bite tagging an 80kg stripe. Freedom also had the bite but did not stay connected. George also reports that there were a number of other boats out on Friday with fish between Ulladulla and Jervis Bay.
On Saturday Side Effect took advantage of a small weather break to head back to same spot and was greeted by stacks of bait and birds upon arrival. They had another marlin hit the lure twice but no hookup.  About an hour later around 70 fathoms they were rewarded by a out-of-nowhere double hook up on stripes with one of the stripy's was tagged estimated around the 75kg mark.
Thanks George!
Port Macquarie (Pre Christmas)
Boats fishing before Christmas reported it quite ordinary with no marlin but expecting that to change. The water temp was warming up to 24.5 degrees and very clean. Hoping the fish arrive in time for the Golden Lure Tournament which is now fast approaching. The dates for this year are January 10 to 18 – inquiries to www.pmgfc.com.au
Yeppoon
Bite Me Charters' Scotty Coulter says that they have been picking away catching on average 2 fish per trip since around the start of Oct. On Saturday again they went 2 from 4. Scotty says that the size of fish have been steadily increasing since October and there is plenty of bait and flying fish the other side of the 30m line to the NE of Yeppoon.
Cairns
Last but not least, still a few marlin around in the hot water off Cairns as well as the usual suspects of yellowfin and dolphin fish etc to be enjoyed during the recent run of calm weather. Jay Edwards has been out with Paul Dosen on his boat Live Wire – in fact I think they may still be out there! Jay said they caught a 200lb blue and a 300lb black on Friday amongst the pilot whales on the NW corner of the southern green zone. They ventured wider on Saturday for no joy. Likewise on Saturday on KEKOA we fish wide of Jenny Louise shoal and while there were plenty of skippies out there, most of the action was in much closer only about 10 miles off Jenny with big bait school and plenty of 20-40kg class yellowfin balling it up. In addition to the yellows and dollies we raised two blues for only the one soft bite. Capt. Kim Andersen is out again too right now and so am looking forward to hearing what he finds. Kim reports just yellowfin and dollies for him too at the Bank so far.