The ladies have been leading from the front over the Australia Day long weekend. Off the Sunshine Coast, the ladies on Bring It On blitzed both their club fleet as well as teams fishing the Redcliffe Peninsula GSFC Australia Day Billfish Tournament to top score Saturday with 6 from 9 black marlin.
The Dahl family ladies on board, Debbie and Britney who shared deck and angling duties (along with Steve on the wheel) were on a practice session for the upcoming MGFC Ladies "Billfish Babes" comp on February 8 which is open to all MGFC members and their invited guests (more).  MGFC Club President Nathan Douglass tells me they out fished about 20 other boats and so the practice is probably not too necessary!  Hopefully the good fishing continues all the way through.
Another lady angler was leading the way on board the Curtis family's Ningaloo off Newcastle on Sunday. Karly Curtis recorded an Australia Day Grand Slam with five marlin – 3 blacks, a striped and a blue to make up the slam. Awesome result!
The fishing off Port Stephens nearby has likewise been very good depending on the day. Fritto 1 certainly found the fish yesterday although I'm sure the boys will agree the conversion rate was not red hot.  They went 7-4-1 for a black in the 40kg range. Andy said that they dropped a blue, another black and what looked to be a spearfish and that bait was hard to find.  I also heard that Capt. George Trinker on Born Free had another good weekend with 5 on Saturday and 2 on Sunday while Akuma didn't miss a beat with 5 from 5 yesterday as well!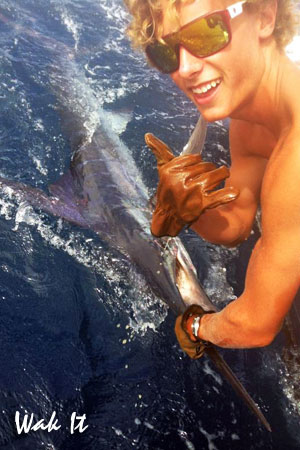 Luke on Wak It sent me this shot (right) of another black they got at South West Rocks on Friday. This is the biggest fish to date for young angler Billy Van Driest who is only 14.
Billy fought the fish for about 30 mins on 15kg line and they topped off their day with some dollies as well as four Spanish and 3 spot ties – great day on the water!
With the Jess Sams tournament at Ulladulla this coming weekend, word from George that there a a few fish around. George was out again late last week and had a double hook up. They unfortunately dropped one early, then even more unfortunately, dropped the other just prior to the tag shot. Unlucky!  George says that there is a lot of bait just inside the canyon and that the bites were coming from 75 fathoms.
The Bermagui Classic was held over the Australia Day weekend as well. I heard that Capt. Dave Cassar's Slammer took out Champion Boat and Most Points Scored by Female Angler with 3 marlin for (previously marlin novice) Carly Bexterman – congrats Carly! If anyone has a report from the event, would love to hear it.
And last but certainly not least, on the Gold Coast, Capt. Ross McCubbin on Lucky Strike was out again before the weather came through.  He went 2 from 5 on Friday at 30 and 60kg and reported lots of slimeys, pilchards and yakka around.