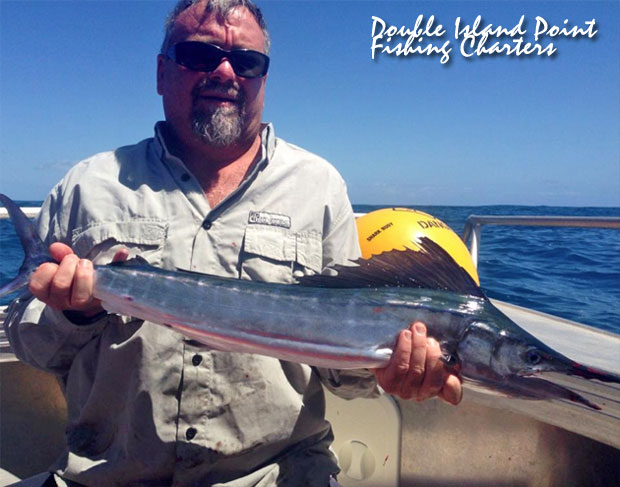 Greg Pearce sent me the above photo of a micro marlin caught on Double Island Point Fishing Charters which measured just over 70cm (short length) and weighed about 2kg.
The tiny black was kept for scientific study by our own Dr. Julian Pepperell, and I hear it is the second smallest one that he's received from along the east coast. As is typical of very small juvenile blacks, the pectoral fins are not fixed and rigid (Julian says that the calcification of the pectoral joint does not occur until they get to about 10-15kg in size).
I'm sure many like me would be most curious about where this little fella comes from. I find it hard to believe at this size he is from Cairns, but we'll wait and see!
Thanks Greg for sharing – look forward to hearing more.
This story above was just a small part of the January 2014 BMFB Newsletter that went out yesterday. Click to read or subscribe!
Yeppoon
Bite Me Marlin Charters' Scotty Coulter reports that off Yeppoon they are sill on a run of small marlin in the usual spots between Flat Island and the Keppel Islands in 30 – 40m, and, with the amount of bait (flying fish , pillies ,slimeys, prawns) here it looks like they will be around for a bit longer. After 2 weeks of strong SE winds, this week has been a ripper for the fishing and weather and Scotty says that if there is anyone around the central QLD region wanting to catch a marlin – now is the time!
Port Stephens
Ryan Constable sent me this video from the other weekend on The Pump.  Some great footage there and what a day on the water! Thanks Ryan.
THE PUMP JAN 2014 from RYNO510 on Vimeo.