More good fishing in the leadup to both the Redcliffe Australia Day Tournament and the Sunshine Coast GFC Classic at the end of the month. Sunny Coast GFC Club Captain Brent Higgins reports that club members are getting excited about the approaching Classic and are getting out on the water warming up.
Again Reel Capture top scored on Saturday with 4 blacks marlin and one sailfish.  SCGFC President Brett Barton on Spot On top scored Sunday with 3 from 4 blacks plus some dollies. Jubilado tagged 2 blacks and several other boats were amongst the action. Brent also said that a general mixture of other species including yellowfin, wahoo, mackerel, dollies and hammerheads have shown up to add some variety.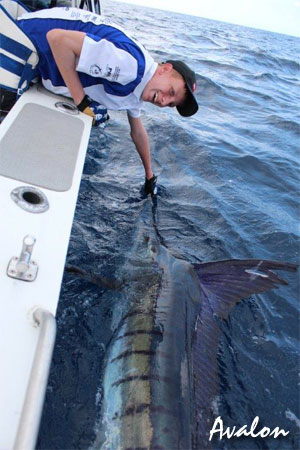 While we're still waiting for the official report from Botany Bay GFC's weekend Bill Heyward Memorial Tournament, Bruce Rayment sent me this pic (right) of son James Rayment (junior) with his second striped marlin of the season.
They put the fish at approximately 65kg caught on 15kg.  Wide of Sydney's Northern Beaches the fish was spotted breaking the surface and was soon in the spread smacking lures.
Bruce said the water was cobalt blue at 85 fathoms and 24.5 degrees.
More photos: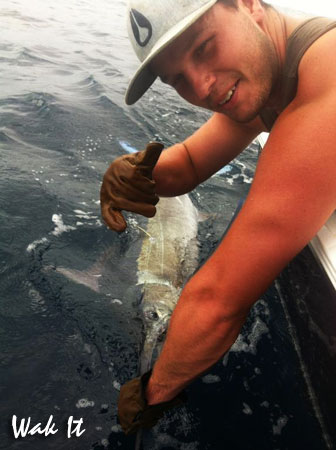 Luke sent me this pic taken on board his boat Wak It on Monday.  It was a first marlin for mate Jay which was caught in 80fathoms due east of Broken Bay.
Luke said it was a pretty impressive start to the day with the lures in for only 5 minutes before hookup.
Well done Jay – first but not last I'm sure!


And a few photos below from the Port Macquarie Golden Lure (tournament report in Monday's blog below).
Dave Tucker sent me this shot of Mark Browns boat Rarely In from Port Stephens during the Goldern Lure comp photo taken from the crew on board the Simrad.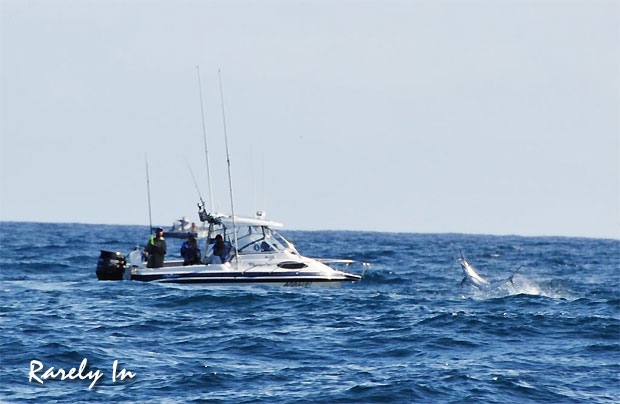 And another from Mike Kane from on board Bear.