Port Macquarie Golden Lure 2014
Steve Bedwell reports at the conclusion of a fantastic week of fishing at the Port Macquarie Bluewater Legal/Carlton Mid 30th Golden Lure:
There were 309 fish were raised over the 4 days of fishing (in great weather!) among the fleet of 31 boats with 116 anglers. A total 110 of those stayed connected, most of which were tagged and released with 15 weighed.
The stats were 54 marlin (blue and black), 11 yellowfin tuna, 3 hammerhead sharks , 1 mako shark weighted (331.4kgs ) and 42 dolphin fish (mahi mahi). Steve concurs with Mark "Griffo" Griffith that this is one of the best blue marlin seasons seen at Port Mac for a long while and he believes that each year its getting better and better for the blues.
That's Gold took out Champion Boat Tag & Release from Team Simrad and Rarely In.
In the Capture Section, Champion Boat went to Griffo's crew on Sea Baby IV (three weighed 153kg on 24kg, 140.8kg on 15kg and 123kg on 24) from Sequana and East Bound.
Champion Male Angler T&R was Dave Wilson Jr and Champion Female Angler Capture Kylie MacBeth.
The 2015 Golden Lure will be held on the 9 to 17 Jan 2015 . All Information is on PMGFC.com.
Port Stephens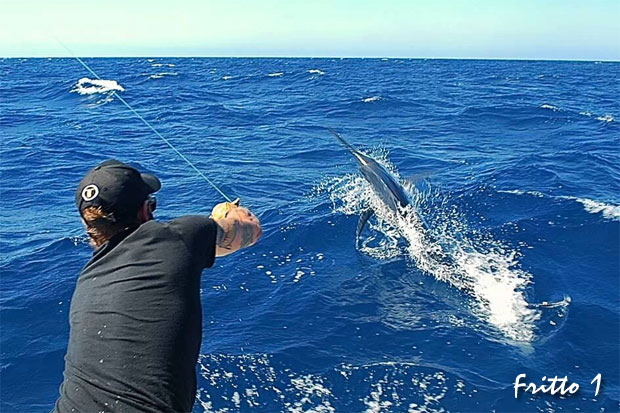 More great fishing off Port over the weekend. Andy reporting that they were among those on the fish on Fritto 1 with the bait harder to find, but once you did the fish were all over it.  They ended up with a 4-4-2 and plenty of other boats with 1s and 2s.
I also heard that Capt. Tim Dean's Calypso is out of the blocks for season 2014 with 3 tags yesterday while the team on Born Free were at it again with a 6-4-3 as well.
Photo above of Ben leadering Andy's black marlin yesterday on Fritto 1.
Gold Coast
Capt. Ross McCubbin on Lucky Strike is at it again with yet another solid performance on the water yesterday.  The final tally was 6-6-6 made up of 5 black marlin in the 40-70kg range and an 80kg hammerhead. Ross says that he found heaps of bait out in 80m.
Other Gold Coasters in on the action including the Stehman's Murphy's Law who released four from four.
Merimbula
Another great update from Nathan Brown. Nathans says that it's still fishing pretty good down that way but he's not sure how much longer it's going to last.
Saturday saw yet another good bite of striped marlin out the front and south of Merimbula. The young guns dominated the water with Kye Moore releasing his first for the season onboard Two 4 One and Chris Bridle releasing one also onboard Annabella 2 – his brother Daniel jumped in to get this awesome photo below!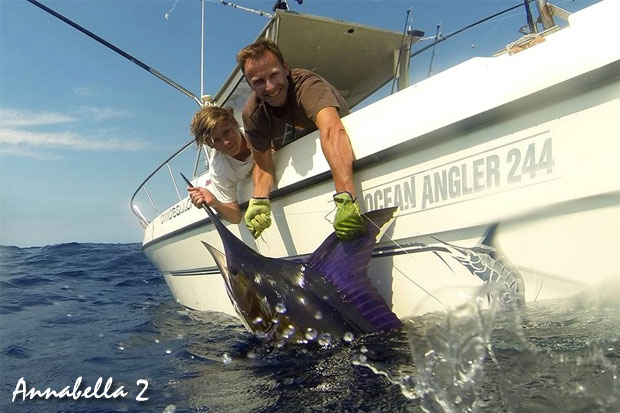 The boys scored this one off a bait ball but said there was plenty of bait around again from 60fathoms out – with plenty of fish around as well. Spooky was also among the action again going one from two, SeaMode and Neva Home tagged one each also plus plenty more seen. Nathan says that most of the action has moved south slightly at 36.05 down to 36.09 but still through the 70-100 Fathom area.
Sunday saw some pretty ordinary conditions but plenty of fish around mostly further to the south with a couple of boats reporting 5-6 fish sighted for the day. Polaris tagged two including one small black marlin in close. The current is pushing south hard particularly up north towards Batemans Bay. Capt. Ryan Capp on Ultimate 2 tagged two small black marlin in close on the way back in today.
Tournaments
The Lake Macquarie Big Fish Bonanza and Shellharbour Open Tournament are among the upcoming comps that have been added to the calender.
Shellharbour GFC President Steve Lamond tells me that they have had a good run of small marlin in close lately and some big blues are also starting to show up out wide.
Meanwhile Lake Mac's Big Fish event is a great preview for the Port event calendar. By the sounds of it, there were plenty of fish off the Lake Mac grounds on the weekend (report anyone?)