Another big weekend of fishing with three tournaments running from the Sunshine Coast GFC Ord Minnett Classic (report below) to the Lake Macquarie GFC Big Fish Bonanza and Ulladulla GFC's Annual Jess Sams Tournament.  I'll add the reports as they come in (email me), but first, a fantastic report fresh from the Gold Coast yesterday.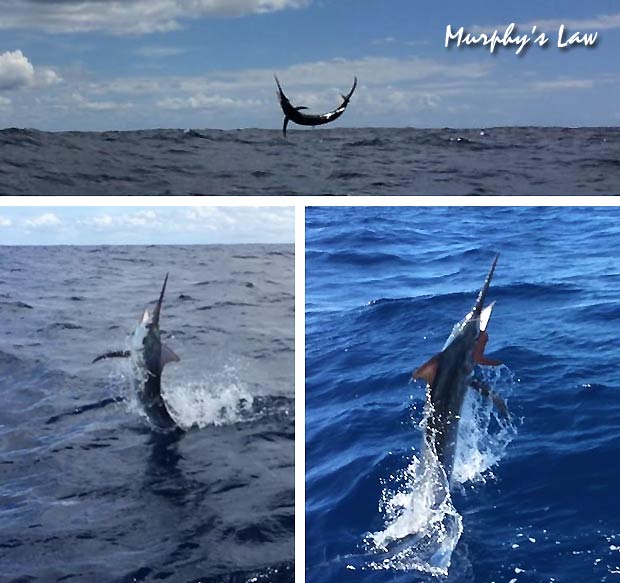 Fishing in 40m of water, in less than ideal weather conditions I might add, Mat Stehman's Murphy's Law finished an outstanding day on the water with a 10-9-9 black marlin!  Mat says the fish were with a school of pillies about a mile long and they they were all in the 15 to 45kg range including one fish tagged that had no bill at all!
Great to hear Mat and crew having such a great run on the blacks after several extremely 'unlucky' trips on the blues earlier this season. Up to about one month ago they were none from 13 on the blues in about 7 trips, but they have definitely turned that around with 20 blacks in 5 trips since as well as a short bill spearfish.  The angling breakdown: 4 for Andrew Morley, 3 for John Stehmann and 2 for Mat.
Impressive result considering they set out fishing for Spanish without taking the riggers either!
Sunshine Coast Classic
A big thanks to SCGFC Club Captain Brent Higgins for the wrap up report from their weekend comp.  Brent reports that despite rough seas, a solid 3-4m swell and strong winds the 2014 Classic was run and won with fishing on both days.
Day 1 saw most boats just happy to make the grounds let alone catch a fish. The only real action for the day was a wahoo of 8.15kg and a tagged black marlin both to Grant Cooper on board Reel Capture with Craig McCulloch and Brent (Higgins).
Day 2 saw deteriorating conditions early in the morning before winds eased a little in the afternoon and as it eased, boats started reporting strikes and hookups. Reel Capture switched another black for Brent at 1.24pm and a third to Grant at 1.53pm to ensure the tournament win. Double Trouble fishing nearby hooked up at 3.48pm and tagged a black for Jay Graham to take second place just before cease fishing. No Name and Alley Cass recorded wahoo and James Robinsons 9.55kg fish just bettered Lindon Fransic's which weighed 9.25kg.
While fishing was well below recent weeks everyone had a very enjoyable and social weekend, certainly sore heads outweighed hookups!
Results:
Champion Team – Reel Capture
Champion O/7 – Reel Capture
Runner Up O/7 – Alley Cass
Champion U/7 – Double Trouble
Runner Up U/7  – No Name
Champion Angler – Grant Cooper
Runner Up Champion Angler – Brent Higgins
Champion Angler Other Species – James Robinson
Top 5 Anglers – Grant Cooper, Brent Higgins, Jay Graham, James Robinson & Lindon Fransic