Ulladulla Jess Sams
With thanks to Ulladulla GFC's George Lirantzis for the report who in turn gives a huge thank you to all 60 teams that entered and participated in the 76th Ulladulla Jess Sams fishing tournament – for what by all reports was the best event in many years.
Over the weekend fishing there were a total of 40 fish tagged and 3 weighed – and there were too many dropped to mention!
Official Tournament Results.
Shootout Winners of the $6000 cash prize
Champion Boat T&R– R & R with 15000 points
Champion Boat Capture– Stand Out
Tag & Release
Highest Point Scoring Senior Male Chris Sedgwick on 30000 Points
Highest Point Scoring Senior Female Renee Watson on 11500 Points
Highest Point Scoring Junior Breanna Busuttil on 10015 points (2nd Highest Point Scoring Junior Jack Stewart)
Highest Point Scoring Small Fry Jai Brisbane on 32 Points
Most Marlin Non Trailer Boat Mr Hooker
2nd Most Marlin Non Trailer Boat Wicked One
3rd Most Marlin Non Trailer Boat Aspro
Most Marlin Trailer Boat Sea Lion
2nd Most Marlin Trailer Boat Monaro N
3rd Most Marlin Trailer Boat Lexie
4th Most Marlin Trailer Boat Keen As
Most Yellow Fin Tuna Off Tap
Most Sharks Child's Play
Most Marlin Female Renee Watson, 2nd Most Marlin Female Breanna Busuttil
1st Marlin Tagged Chris Sedgwick, Last Marlin Tagged Aspro
Capture
Heaviest Marlin Stand Out
Heaviest Other Game Fish Off Tap
A bit from Port and thereabouts
I'm hearing that the fishing was patchy over the weekend off Port although Tantrum went 7-7-5 on Saturday fishing for blues wide of the shelf – but 4 of the fish were little blacks (remember the little blacks were out wide with the blues on the Gold Coast earlier this season as well).  Gary Holt's French Look 3 lost an estimated 150kg blue marlin at the boat on 3kg! The water in the Carpark is green and cold after a week of NE winds started the upwelling – fingers crossed it comes good again for the shootout.
Thanks Andy for the report – my reporter on the ground ;-)
The Lake Mac Big Fish Bonanza Tournament report is still to come but a few tidbits. Capt. Scotty Thorington's Freedom was unlucky to be ruled out early with mechanical issues after leading off fishing from the front with two marlin tagged on the morning of Day 1. Offshore fishing 'Capture' scored a 85kg striped marlin on 10kg line, while a 386kg tiger shark was also weighed,  caught on 15kg.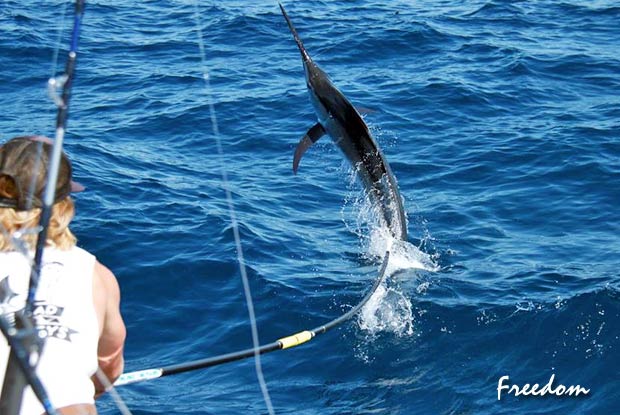 Thanks Ben "Notso" Bright for the pic!