Several big fish were once again weighed for the annual Lake Macquarie Big Fish Bonanza held out of Swansea over the weekend.  There were 43 boats and 160 anglers competing and overall 19 marlin were tagged among the competing fleet (11 blacks, 1 blue and 7 stripes) with the Champion Boat T&R Awatea also taking out Champion Male Angler T&R and Most Points T&R for Luke Stansfield.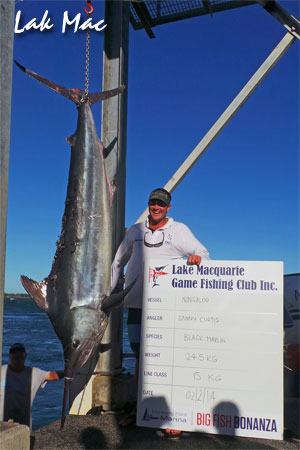 The big fish recorded on the Capture side of the comp included a couple of monster sharks – a 420kg mako on Critakill which took out the Heaviest Shark award as well as the 386 tiger mentioned yesterday.
Ningaloo's Danny Curtis weighed the heaviest marlin for the comp, a 124.50kg black marlin (photo) on 15kg line to take the award (among only 2 marlin weighed – the other being the striped for Offshore at 85kg on 10kg line).
With thanks to LMGFC President Paul Hogg for the official results (download them here). There is one correction for the attachment, with the Champion Boat Tag and Release U8m listed incorrectly and was won by Tangles & Son on 23,029 points.