Gold Coast Little Blacks Run Hot
The Gold Coast is not letting go of its summer fishing crown just yet with some more reports from the weekend fishing thus far blowing all other destinations out of the water.  Following up from a big day on the water last weekend (10-9-9), they were back into the little black marlin on Murphy's Law again yesterday.  Matt reports they ended up the day with another 7-6-6, all the fish in the 20-40kg range with 2 a peice to anglers John, Andrew and Sean (and keeping Matt off the rod this time!)  They are back out there again today.  Among the other boats on the fish, Capt. Ross McCubbin, this time at the wheel of Reel Busy who followed up a morning on the Spanish with 5 from 6, and Hot Deal who went 6 from 7 – with 5 to Alisa and the other to Capt. Brett Alty as an angler for a change :-)
Another Gold Coast regular Vince Wregg's Barco headed out wide for the blues and released 1 from 1, and then added a black as well on the way back in!
Port Stephens Steady Steady
Meanwhile down at Port Stephens, fishing continues at a steady pace. I hear that the Car Park lived up to its name yesterday with plenty of smaller boats also enjoying the good weather. Capt. Scotty Thorrington's Freedom added another two black marlin yesterday (as well as a hammerhead shark) to his tally. He also released two the day before and the day before that (Thursday) it was two from two again, but this time stripes.  Ben "Notso" Bright who is back fishing with Scotty and Junior on board for the next couple of weeks sent me some action shots and tells me that most boats caught one or two a piece yesterday and  that most of the fish were blacks in the 40-90kg range.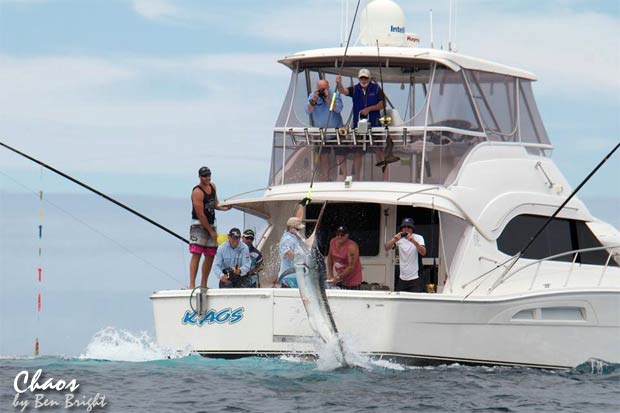 Shot above taken from Freedom of Kaos fishing nearby on Thursday who ended up three from five.  Ben also reports fish for Capt. Tim Dean's Calypso (1 from 3 Friday) while the Andy Bagnall/Benjamin Currell duo fished on Ben's trailer boat Vision Sportfishing Friday for 4-2-1 black marlin – whilst chasing blues in 400m I might add. Andy says they had the bite out of the fish (blue) they wanted and it took them right down to the dacron on the spool before spitting the lure. They were out again yesterday on Fitto 1 for a 1 from 3.
A catch up report from Tim Hiscoe fishing aboard Noel Roberts' Bertram Sea Warrior on Monday at the Carpark who also release a nice 'little' black of about 90kg on a lure.
And another photo below coming via Dave taken by Claire Jones on board Cazador during the Lake Mac Big Fish Bonanza. Perfect tag shot!
A reminder that the black marlin fin clips are still needed.  Sam Williams' 4th Black Marlin Bulletin is available for download. Sam also includes some interesting information with regards to marlin with bent or missing bills so its well worth a read!