Cabo Hatteras Billfish Shootout
Port Stephen's big tournament month has kicked off with start fishing for Game & Leisure Boats' Cabo~Hatteras Billfish Shootout yesterday with 101 boats and 482 anglers taking part this year. Pretty good fishing with teams targeting blues, stripes or blacks or a mixture of the three (I hear they are still catching smaller blacks out wide) and I hear that all three species were reported tagged within the first hour!
The leading fish for the major cash prize is a 174.2kg blue marlin for Dennis Jake on Casey. On the T&R side, Smart Bill are in the lead with 3 tags and 31500 points with several more boats not far behind on two (line class determines points). I'm sure it will go right down to the wire today. Good luck to everyone competing!
Thanks Ben for the updates!
Sunshine Coast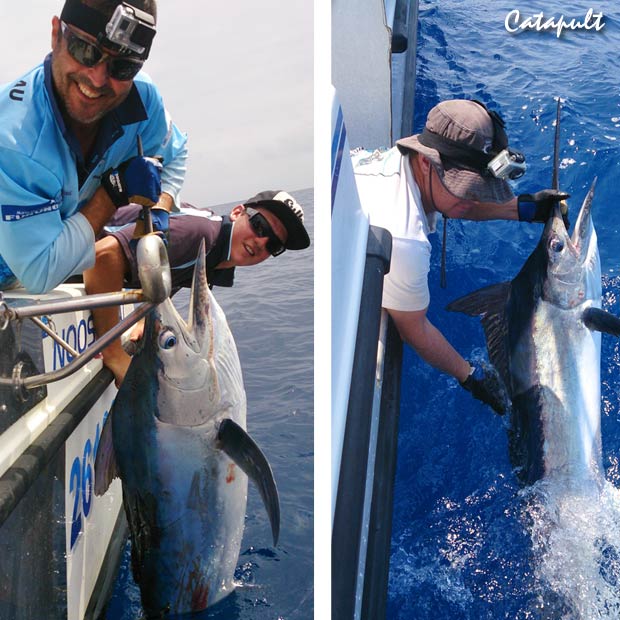 Valentine's Day fun on the Sunshine Coast. Thank Lachlan for the report! Lachlan sent me the above photos taken on board Catapult who tagged two blacks on Friday following up from a great day on water with 4 tagged the day before off Mooloolaba.
Double Haul and Galaxy II also tagged 4 blacks each on Thursday with Misty and Big Wave Dave both tagging 3 and In A Meeting and Flat Dog with 2, and Capricorn with 1.
Following up on Friday, One Way tagged 3 (with 2 going to 8 year old Bryce – go Bryce!), Big Wave Dave and Fish Fingers tagged 2 and Reel Capture tagged a black and a sail. Chuckles and Capricorn both tagged a black a piece.
Update: Lachlan tells me that Misty braved the weather yesterday (20 – 30 knot strong wind warning) and was rewarded with 5 little blacks – not bad for a little 5.5m half cab – well done!
Gold Coast
And another Thursday update from Steve Morely on the Gold Coast who fished out of his boat Trophy  in 80m.  Steve says they released two blacks from four bites, all in the 50-70kg bracket.  Steve says there were several boats out in what looks like glamour conditions with most boats getting into the fish including the real little boats! Great pics Steve!